Are you an avid shopper? Do you enjoy shopping at various malls and comparing prices? Do you want to know where to go in Malaysia for the best shopping experience? This post is for you if you provided a yes answer to any of these questions. Based on their size, variety, amenities, and popularity, we will present you to the top shopping malls in Malaysia in 2023 in this post.
Malaysia is a country that offers a rich and diverse culture, a vibrant and modern lifestyle, and a stunning natural beauty. It is also a paradise for shoppers, who can find everything from traditional handicrafts to luxury brands in its many malls. But with so many malls to choose from, how do you decide which ones to visit?
Are you are looking for fashion, electronics, entertainment, or food? You will find something that suits your taste and budget in these malls. These malls are not only the largest and most popular ones, but also the ones that offer the most variety, convenience, and entertainment for shoppers of all ages and preferences.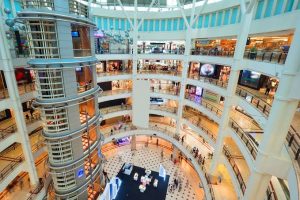 Best malls in Malaysia 2023
Malaysia boasts several outstanding shopping malls in 2023, each offering a diverse shopping experience:
1. Pavilion Kuala Lumpur:
A premier shopping destination in Central Bukit Bintang, Pavilion offers 8 levels of retail space with over 550 stores, featuring international brands like Burberry, Coach, Dolce & Gabbana, Hermes, and Versace, as well as local brands like Nichii, Nose, Soda, and Xixili. The mall also includes a gourmet supermarket, a food court, a cinema, a bowling alley, a karaoke lounge, and a spa.
2. Suria KLCC:
Nestled at the base of the iconic Petronas Twin Towers, Suria KLCC is a six-storey shopping mall with over 300 retail stores, including renowned international brands such as Armani, Chanel, Dior, Gucci, and Prada, as well as local favorites like Padini, Vincci, Bonia, and Royal Selangor. Suria KLCC also boasts a 12-screen cinema, an art gallery, a science discovery center, an aquarium, and a park.
3. 1 Utama Shopping Centre:
As Malaysia's largest mall and the seventh largest globally, 1 Utama Shopping Centre spans seven levels with over 700 stores. It features international brands such as Adidas, Calvin Klein, Fendi, Nike, and Zara, alongside local brands like Elianto, F.O.S., Padini Concept Store, and The Body Shop. The mall also offers two cinemas, an indoor theme park, an outdoor rainforest park, a rooftop garden, an ice skating rink, and a rock climbing wall
Top shopping destinations in Malaysia 2023
In 2023, some top shopping destinations in Malaysia include:
1. Kuala Lumpur:
Pavilion Kuala Lumpur
Suria KLCC
Bukit Bintang
Mid Valley Megamall
2. Penang:
Gurney Plaza
Komtar JBCC
Queensbay Mall
3. Johor Bahru:
Johor Premium Outlets
Komtar JBCC
4. Langkawi:
Langkawi Parade MegaMall
Cenang Mall
5. Malacca:
Mahkota Parade Shopping Mall
Dataran Pahlawan Melaka Megamall
These destinations offer a wide range of shopping experiences, from luxury brands to local handicrafts and delicious street food
Malaysia shopping guide 2023
Shopping in Malaysia offers a diverse range of products and experiences. Here are some tips for a successful shopping trip:
1. Where to Shop:
Kuala Lumpur: Explore Pavilion KL, Suria KLCC, Central Market, Berjaya Times Square, and Petaling Street.
Penang: Discover unique items in Gurney Paragon Mall, Penang Times Square, Little India, and Georgetown Heritage Zone.
Langkawi: Enjoy duty-free shopping at Cenang Mall, Oriental Village, Teow Soon Huat Duty-Free Shopping, and Langkawi Fair Shopping Mall.
2. When to Shop:
Look for shopping seasons like the Malaysia Mega Sale Carnival (June-September), Malaysia Year End Sale (November-January), and Chinese New Year Sale (late January or early February) for discounts.
3. How to Shop:
Bargain in markets and street stalls, but be polite and start negotiations respectfully.
Be prepared to use cash or mobile payment apps in some smaller shops.
If you're a foreign tourist spending over RM300 in a day, consider applying for a 6% tax refund on your purchases at the airport before departing.
These tips will enhance your shopping experience in Malaysia.
What is the most popular shopping mall in Malaysia?
The most popular shopping malls in Malaysia vary depending on preferences, but some well-regarded options include:
Pavilion KL: Located in Kuala Lumpur's Bukit Bintang area, it offers branded shops, a food court, and a vibrant atmosphere.
Suria KLCC: Situated beneath the Petronas Twin Towers, it features a mix of local and international brands, an aquarium, and more.
Central Market: In Chinatown, it offers handicrafts, souvenirs, and hosts cultural events.
Berjaya Times Square: One of the world's largest malls in Kuala Lumpur, with numerous shops, an indoor theme park, and more.
Sunway Pyramid: Located in Subang Jaya, known for its Egyptian-inspired design, with over 800 shops, an ice skating rink, and a water park.
These are just a few options, and there are many other malls in Malaysia catering to various preferences and budgets.
What is the most luxury shopping mall in Malaysia?
There are many shopping malls in Malaysia that offer a variety of products and services, but some of them stand out for their luxury and elegance. Here are some of the shopping malls that are often considered to be among the most luxurious in Malaysia:
The Starhill: A distinctive KL mall featuring prestigious fashion, jewelry, and beauty brands.
The Gardens Mall: Connected to Mid Valley Megamall, it offers upscale boutiques and amenities.
Gurney Paragon Mall: A stylish Penang mall with international and local brands and a heritage building.
Pavilion KL: A vast mall in Kuala Lumpur known for branded shops and a fantastic food court.
Suria KLCC: Located beneath the Petronas Twin Towers, it's the largest mall in Malaysia with local and international brands.
These malls offer a luxurious shopping experience, but Malaysia has many more options to explore.
RECOMMENDED:
What to buy in Malaysia 2023
Malaysia is a country that has a lot of things to offer for shoppers, whether they are looking for beauty products, electronics, fashion, food, or souvenirs. Here are some of the things that you can buy in Malaysia 2023:
1. Beauty products:
You can find a variety of beauty products in Malaysia, especially in drugstores such as Watsons, Guardian, and Aeon Wellness. Some of the popular brands include Biore, Nivea, L'Oreal, and Essano. These products are often 30% to 50% cheaper than those in Singapore.
2. Electronics:
Malaysia is a good place to buy electronics such as smartphones, laptops, cameras, and accessories. You can find international brands such as Apple, Samsung, Huawei, Asus, and Sony, as well as local brands such as Xiaomi, Oppo, Vivo, and Realme. Some of the best smartphones in Malaysia 2023 include the ROG Phone 6, the Samsung Galaxy S22 Ultra, and the iPhone 13 Pro Max.
3. Fashion:
Malaysia is also a fashion hub that offers a wide range of clothing, shoes, bags, and accessories. You can find international brands such as Zara, H&M, Uniqlo, and Nike, as well as local brands such as Padini, Vincci, Bonia, and Royal Selangor. You can also shop for traditional and ethnic wear such as batik, songket, kebaya, and baju kurung.
4. Food:
Malaysia is famous for its diverse and delicious cuisine that reflects its multicultural heritage. You can enjoy dishes such as nasi lemak, roti canai, satay, laksa, rendang, and rojak. You can also buy snacks and delicacies such as kuih (cakes), dodol (sticky candy), serunding (meat floss), keropok (crackers), and durian (king of fruits).
5. Souvenirs:
You have a wide range of possibilities if you wish to carry some souvenirs from Malaysia home. Crafts including pewterware, woodcarving, ceramics, and basketry are available for purchase. Cultural products like wau (a kite), congkak (a board game), gasing (a spinning top), and wayang kulit (a shadow puppet) are also available for purchase. Additionally, you can purchase goods created in-country using materials including rubber, tin, palm oil, and tea.
These are some of the things that you can buy in Malaysia 2023. Of course, there are many more things that you can discover and enjoy in this beautiful country. So why not plan your trip to Malaysia now and experience it for yourself? You will not regret it.