Our lives now revolve around online purchasing, which has been expanding quickly in Australia. The number of online shopping sites in Australia has significantly increased as more and more individuals choose to purchase online for convenience's sake. These websites provide a wide range of consumer demands, including those for fashion, electronics, groceries, and much more.
The  COVID-19 pandemic has also played a significant role in driving the growth of online shopping in Australia. With the country experiencing multiple lockdowns and social distancing measures, people have been forced to shop online, and many have continued to do so even after the restrictions have lifted. Online shopping has become a safer and more convenient option for many Australians, and the trend is expected to continue in the coming years.
In this article, we will explore the top online shopping sites in Australia for the year 2023. We have compiled a list of the most popular and trusted online shopping sites that offer a wide range of products and excellent customer service. Whether you are looking for the latest fashion trends or the best deals on electronics, we have got you covered. So, without further ado, let's dive into the top online shopping sites in Australia for 2023.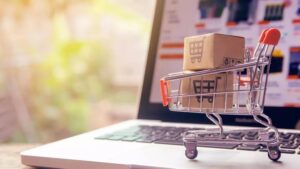 What are the top online shopping sites in Australia in 2023?
These are just a few of the top online shopping sites in Australia, and there are many other sites that are also popular and widely used. It's important to note that the online shopping market is constantly evolving, and new sites could emerge as top players in the future.
Amazon Australia
eBay Australia
Kogan
Catch.com.au
Myer
JB Hi-Fi
Big W
Target Australia
Woolworths Online
Coles Online
The Iconic
ASOS
Booktopia
Adore Beauty
Chemist Warehouse
Officeworks
Harvey Norman
Bunnings Warehouse
Dan Murphy's
The Good Guys
How to find the best online shopping deals in Australia in 2023?
However, here are some general tips that may be helpful in finding the best online shopping deals in Australia in 2023:
Sign up for newsletters: Many online retailers offer exclusive deals and discounts to subscribers of their newsletters. By signing up, you can stay up-to-date on the latest deals and promotions.
Follow social media accounts: Online retailers often promote their deals and discounts on their social media accounts, so be sure to follow your favorite retailers on platforms such as Facebook, Instagram, and Twitter.
Use coupon codes: Many online retailers offer coupon codes that can be used at checkout for additional discounts. You can find these codes on coupon websites or by signing up for the retailer's newsletter.
Compare prices: Use price comparison websites or browser extensions to compare prices across multiple retailers. This can help you find the best deals and ensure you're getting the lowest price possible.
Shop during sales events: Look out for major sales events such as Black Friday, Cyber Monday, and end-of-season sales, where retailers offer deep discounts on a wide range of products.
Use cashback websites: Cashback websites such as Cashrewards and Shopback offer cashback on purchases made through their links. This can help you save even more money on your online shopping.
Check for free shipping: Many online retailers offer free shipping for orders above a certain amount, so be sure to check for this before making a purchase. This can help you save on shipping costs.
By following these tips, you can increase your chances of finding the best online shopping deals in Australia in 2023
Consumer preferences for online shopping in Australia in 2023?
Here are some key trends and preferences: 
Mobile shopping: With the increasing use of smartphones and tablets, more and more consumers are expected to use mobile devices to make online purchases in 2023.
Personalization: Consumers are increasingly expecting personalized experiences when shopping online, including tailored recommendations and customized communication.
Speed and convenience: Consumers value fast and convenient delivery options, such as same-day or next-day delivery, as well as easy returns processes.
Sustainability: Consumers are increasingly aware of the environmental impact of their shopping habits, and are likely to continue to favor online retailers with strong sustainability and ethical practices.
Social media shopping: Social media platforms such as Instagram and Facebook are expected to play a larger role in online shopping in the future, with features such as shoppable posts and direct checkout.
Augmented Reality: As the technology becomes more accessible and user-friendly, more online retailers are expected to use augmented reality to provide virtual try-ons and visualizations for their products.
Voice shopping: As smart speakers become more common in households, voice shopping is expected to become more popular, allowing consumers to make purchases using voice commands.
These are just a few examples of the consumer preferences and trends that are likely to shape online shopping in Australia in the coming years.
What are Australians buying the most online?
These are just a few examples of the products that Australians have been buying the most online. However, it's important to note that consumer preferences and trends are constantly evolving, and this list could change in the future.
Fashion: Clothing, shoes, and accessories are among the most popular items purchased online in Australia.
Health and beauty: Personal care items such as skincare products, makeup, and supplements are also popular online purchases.
Home and garden: Australians are increasingly shopping online for home and garden products such as furniture, homewares, and outdoor equipment.
Electronics: Online purchases of electronics and gadgets such as smartphones, laptops, and home entertainment systems continue to be popular.
Food and groceries: Increased in online grocery shopping, with many Australians opting to have their groceries delivered rather than going to the supermarket in person.
Toys and hobbies: Online shopping for toys, games, and hobby-related items has also increased in popularity in recent years.
Best online clothing stores Australia
There are many great online clothing stores in Australia. Here are ten of the best based on popularity and customer reviews:
ASOS
The Iconic
Showpo
Princess Polly
Boohoo
Forever New
Glassons
Cotton On
Seed Heritage
General Pants Co.
These stores offer a wide range of clothing options, from fast fashion to high-end designer brands, and cater to a variety of styles and preferences. They also often offer free shipping, easy returns, and great customer service. It's worth noting that the online clothing landscape is always changing, and new players could emerge or existing players could lose popularity in the coming years.
What is Australia's version of Amazon?
The closest equivalent to Amazon in Australia is Amazon.com.au, which is Amazon's Australian website that launched in December 2017. Amazon.com.au offers a wide range of products, including books, electronics, clothing, and home goods, and offers services such as Amazon Prime, which provides free shipping on eligible items, access to streaming of movies, TV shows, and music, and other exclusive benefits.
However, while Amazon.com.au has been steadily expanding its offerings and presence in Australia, it has yet to achieve the same level of market dominance as it has in other countries. Other popular online marketplaces in Australia include eBay and Gumtree.
READ ALSO:
Cheap online shopping Australia
Here are some popular online shopping sites in Australia that offer affordable and discounted products:
Catch.com.au
Kogan.com
OzSale
Bargain Avenue
DealsDirect
Factory Buys
The Market
GraysOnline
CrazySales
Groupon
These sites offer a wide range of products, from fashion and electronics to home goods and toys, at discounted prices. However, it's important to compare prices and read reviews before making a purchase to ensure that you're getting a good deal and a quality product. Additionally, it's always a good idea to be mindful of scams or fake products when shopping online.
Feel free to share this article with others after leaving your comments in the space provided below.