Do you wish to know some tips about that job interview you have been called for? If you so desire to leave your interviewer with no option than to employ you, you are just in the right place
Every job applicant likes things to go smoothly for them. They like things quick and easy without stress. They want to know some tips before going for that job interview.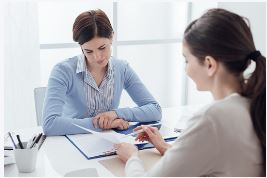 In this article, I will be giving you some interview tips the will be of great benefit to you. Stick to these tips to know about the job interview and thank me later
Tips on how to dress for an interview
It is said that first impression really matters a lot. You do not just pick any cloth in your closet to wear for an interview.
If you don't know what to wear for that job interview or you have a poor fashion sense, do not worry I have got your back.
Here are some tips for dressing to a job interview:
For ladies:
1. You can choose to wear a suit but make it a neutral colour
2. Your dress should not be too tight
3. Your skirt should not be too short. Do not wear a mini skirt
4. Your slit should not be too high
5. Keep your jewelry simple with a light make up
6. Avoiding putting on stilettos
For men:
1. Your hair cut should be low and your beards shaved
2. Wear a dark colour socks
3. Men should always wear a tie and it should not be pattern tie
4. Wear a neutral colour suit
5. Put on a white shirt
6. Use dark or brown colour belt that goes with your shoe colour
Tips on interview questions
Here are tips on frequently asked interview questions. You should take note of these questions and provide answers to them effectively.
1. Why should you be hired
2. Where do you see yourself in five years
3. What are your strength
4. What are your weakness
5. Tell us about yourself
6. Why do you want to work here
7. What's your motivation
8. Why did you leave your previous job
9. Tell us your salary expectation
10. What do you do when you are under pressure
11. What is success in your own words
12. What are your skills
13. What can you do to grow this company
what and what not to do
There are some things you should and shouldn't do for an interview. They are:
Do's
1. Pay a lot of attention to instructions
2. Sell yourself, that is your skills
3. Ask the interviewer smart questions
4. You must do a company research
5. Be relaxed
6. Look the interviewer in the eye
7. Thank the interviewer at the end
Don'ts:
1. Don't over dress
2. Don't cross your arm while answering questions
3. Don't give false information
4. Don't talk anyhow, have manners
5. Don't talk bad about your former place of work
6. Don't panic
7. Don't rush while answering question.
Conclusion: Everyone wish to make a successful interview, with the above details, you will be one of the outstanding applicants during interview.
Related: