Mistakes applicants make during a job interview
How are you going to feel if you applied for a job, you were called for an interview, spent hours with the interviewer, only for the interviewer to say 'we will get back to you' and weeks after weeks they don't? You will feel bad right? Maybe discouraged
One of the things some job applicants should know and accept is that there are certain mistakes that they make during job interviews that should and will be corrected.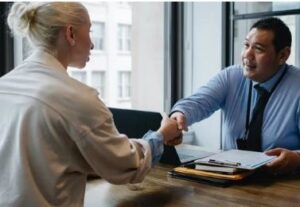 If you are still wondering what these interview mistakes could be; this article will reveal those errors to you and their possible solutions.
This information on this page is for both those who are yet to be called for an interview and those who have attended a job interview and did not get a response from the interviewer and were not called back for the job.
These job applicants would have made one or a few of the mistakes that will be discussed here.
Some common mistakes
It is important to forewarn you of some common interview errors most job seekers make so that you do not make the same mistake that they did.
1. Wrong dressing: Some people do not know what to wear when it comes to the job interview
2. Wrong composure: The way you compose yourself matters a lot
3. Wrong answers to questions
4. Panic and fretting
5. The use of words
Why people make interview mistakes
Some say that mistakes in life are inevitable and one has to make mistake in order to learn from it. I would say that this is not true, you don't have to make a mistake in order to learn from it. You get experience from other people's mistakes.
Here are some common reasons why people make interview errors:
1. Anxiety and panic
2. Ignorance
3. To show off
4. Inadequate preparation
5. Lack of research about the company
Solutions to interview mistakes
There is a way out of any mistakes you might have made. The following are the solutions to interview mistakes most job seekers make. They are:
1. Don't beat around the bush, your answers should be direct
2. Do thorough research of the company before going for an interview
3. Do not fret when answering questions
4. Do not rush while answering, take your time
5. Don't use big grammars
6. Ask for clarification she you don't understand a question
7. Dress properly for the interview
8. Never go late for an interview
At this juncture, I hope the guidelines on Mistakes applicants make during job interview are useful.
Related: