Austria's Best Cities 2023! Known for its breathtaking natural beauty, rich cultural legacy, and excellent standard of living, Austria is a landlocked nation in Central Europe. But Austrian cities are not all made equal. Certain places are more appealing, comfortable, and thrilling than others.
The top Austrian cities for 2023 will be determined by a number of factors, including tourism, the economy, education, culture, and ecology. These are the cities that have a distinct charm, a lively ambiance, and a wide variety of sights and events.
You may discover a city in Austria that meets your interests and expectations, whether you're seeking for an outdoor adventure, a romantic break, or an immersion into the local culture. So without further ado, let's start our list of Austria's top cities for 2023.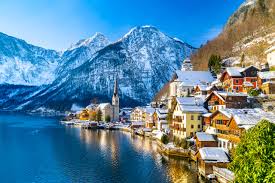 Top cities in Austria 2023
Here is a list of the top 10 cities in Austria in 2023, based on various factors such as population, culture, tourism, and quality of life:
Vienna: Capital with rich culture, imperial architecture, and top livability.
Salzburg: UNESCO beauty, Mozart's birthplace, and alpine scenery.
Innsbruck: Picturesque city in the Alps, hub for winter sports.
Graz: Second-largest city, vibrant student scene, UNESCO charm.
Linz: Third-largest city on the Danube, blending nature and culture.
Salzkammergut: UNESCO region with lakes, mountains, and spas.
Worthersee: Stunning Carinthian lake, ideal for water sports and summer fun.
Bad Gastein: Salzburg spa town with thermal springs and outdoor activities.
Klagenfurt: Carinthian gem hosting events on Lake Worthersee.
Eisenstadt: Smallest state capital, Esterhazy influence, and Haydn's legacy.
What are the cultural, historical, and natural highlights of Austria in 2023?
Explore Austria in 2023 with these highlights:
Vienna – Arts and Culture: Visit imperial palaces, the Vienna State Opera, and modern art museums like the Albertina.
Salzkammergut – Natural Beauty: Enjoy outdoor activities in this UNESCO World Heritage Site, with highlights like Hallstatt and the Krimml Waterfalls.
Salzburg – History and Charm: Experience the baroque Old Town, Mirabell Palace Gardens, and Mozartplatz in the birthplace of Mozart.
Hoher Dachstein – Adventure Hub: Discover the highest peak in the Dachstein Massif, featuring a cable car to the summit and the breathtaking Dachstein Skywalk. Explore the Eisriesenwelt Cave, the world's largest ice cave.
What are the best seasons and months to visit Austria in 2023?
Best times to visit Austria in 2023:
Spring (April-May): Mild weather around 16°C (61°F), ideal for outdoor activities like hiking and biking. Experience cultural events like the Vienna Spring Festival.
Autumn (September-October): Warm and dry with average temperatures of 15°C (59°F). Enjoy stunning autumn colors in alpine regions and partake in harvest celebrations like Oktoberfest.
Summer (June-August): Peak season with hot, sunny weather (22°C/72°F). Perfect for water activities and exploring cities. Crowded, so book in advance.
Winter (November-March): Low season with cold, snowy weather (1°C/34°F). Ideal for winter sports in the Alps and enjoying a cozy atmosphere in ski resorts. Challenging due to road conditions. Winter events include Christmas markets.
How to plan a budget-friendly and memorable trip to Austria in 2023?
Plan a budget-friendly trip to Austria in 2023:
Choose the Right Time: Visit during the shoulder season (April to May, September to October) for milder weather and lower costs.
Early Bookings: Use flight comparison sites like Skyscanner, Kayak, or travel agencies such as Great Value Vacations. Book accommodation in advance on platforms like Booking.com or Airbnb.
Budget Transportation: Utilize Austria's public transport system or rent a bike for an affordable and scenic exploration.
Explore Affordably: Enjoy free or cheap attractions like Schönbrunn Palace and take advantage of free walking tours and festivals.
Local Cuisine: Try traditional dishes like Wiener Schnitzel at local markets or eateries for authentic and cost-effective dining.
Drink Locally: Opt for local beer, wine, or schnapps to save money and savor the authentic Austrian experience.
Follow these tips for a memorable yet budget-conscious Austrian adventure in 2023
What are the safety and health tips for traveling to Austria in 2023?
Safety and health tips for traveling to Austria in 2023:
Enroll in STEP: Sign up for the Smart Traveler Enrollment Program (STEP) for alerts and an easier emergency location.
Stay Informed: Follow the Department of State on Facebook and Twitter for updates and advice.
Check Security Report: Review the Country Security Report for Austria to be aware of crime, terrorism, and potential risks.
Health Precautions: Visit the CDC page for the latest travel health information, including COVID-19 guidelines, vaccinations, and precautions.
Emergency Plan: Prepare for emergencies by having copies of travel documents, embassy contact details, and insurance information. Consult the Traveler's Checklist for additional tips.
Beware of Petty Crime: Stay vigilant against pickpocketing, ATM scams, and theft in public areas. Secure valuables and be aware of surroundings.
Terrorism Awareness: Be alert to terrorism risks, especially in crowded places. Report any suspicious activity to authorities.
Tick Safety: In rural areas, be cautious of ticks carrying encephalitis. Check for ticks and consider vaccination if spending time outdoors.
Natural Hazards: Enjoy Austria's natural beauty but be aware of avalanche, flood, and mudslide risks in alpine areas. Follow local weather updates and adhere to marked trails during outdoor activities.
READ ALSO:
How to find affordable and comfortable accommodation in Austria in 2023?
Finding affordable and comfortable accommodation in Austria in 2023 involves a combination of online research, planning, and utilizing various resources. Here are some steps to help you find suitable accommodation:
1. Start Early:
Begin your search well in advance of your planned travel dates. This allows you to have a broader range of options and better chances of finding good deals.
2. Online Booking Platforms:
Utilize popular accommodation booking websites such as Booking.com, Airbnb, and Expedia. These platforms offer a variety of options including hotels, hostels, and vacation rentals. Filter your search based on your budget and preferences.
3. Compare Prices:
Don't settle for the first option you find. Compare prices across multiple platforms to ensure you are getting the best deal. Prices can vary, so it's worth spending some time researching.
4. Consider Alternative Accommodations:
Look beyond traditional hotels. Consider staying in hostels, guesthouses, or vacation rentals, as these options can often be more affordable. Airbnb is particularly popular for finding unique and cost-effective places to stay.
5. Local Websites:
Check local accommodation websites or contact local tourism offices. Sometimes, you can find better deals on regional websites that may not be as well-known internationally.
6. Student Accommodations:
If you are eligible, consider student accommodations. Many universities rent out rooms to visitors during non-term periods, providing an affordable and often well-located option.
7. Read Reviews:
Before booking, read reviews from other travelers to ensure the accommodation meets your expectations in terms of comfort, cleanliness, and location.
8. Flexible Dates:
If your travel dates are flexible, use the flexible date feature on booking websites. This can help you identify cheaper rates on different days.
9. Contact Accommodations Directly:
After finding a potential place, consider contacting them directly. Sometimes, they may offer discounts or have special deals that are not listed on booking platforms.
10. Subscribe to Alerts:
Sign up for email alerts from booking websites. They often send out notifications about special deals and discounts.
11. Consider Location:
Accommodations in less touristy areas are often more affordable. However, make sure the location is still convenient for your travel plans.
12. Check for packages:
Some travel websites offer package deals that include accommodation, flights, and transportation. These packages can sometimes offer significant savings.
By following these steps and staying flexible in your choices, you should be able to find affordable and comfortable accommodation in Austria in 2023.
If you found this information helpful, we welcome you to share it with fellow friends and family and leave a comment to express your opinions.