Do you want to send a Steam gift card to a loved one? Have you received a steam card from your friend and you do not know how to redeem a Steam gift card? You can purchase items at the steam store using the Gift Card.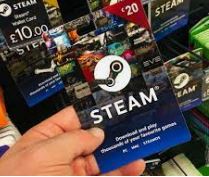 If you have a friend who is a lover of games, then Steam Wallet gift cards are the right gift you can send to them. With a  Steam digital gift card you can purchase games, software, hardware, Others;
You have a Steam account to be able to add funds to Steam Wallet which can be done using a credit card or via Steam Wallet gift card / Steam voucher.
A Steam Digital Gift Card is a digital gift card that carries a specific amount of money, which goes to Steam Wallet once it is successfully activated.
READ ALSO:
What can I buy using the Steam gift card?
Steam Gift Cards and Wallet Codes are just similar to gift certificates, which are redeemed on Steam for the purchase of games, software, and any other item you can purchase on Steam.
Where can I get a Steam gift card?
Don't know how to get free steam gift cards? You can get trading cards just by playing one of the participating games. As you play, you'll occasionally receive trading card drops which will be placed in your Steam Inventory.
RECOMMENDED:
How much does it cost to purchase a Steam gift card?
The steam gift cards comes in physical steam Cards and digital steam gift cards. Physical cards are sold in amounts of $20, $30, $50, and $100, while digital cards can be worth $5, $10, $25, $50, and $100.
What is a steam Activation code?
A Steam card comes with an activation code, which can be used by the recipient to put the Steam card's value into their account's digital Steam Wallet.
Can Steam gift card Fund be withdrawn?
Steam's terms and conditions do not allow funds in your wallet to be transferred or refunded. They also can not be withdrawn as real money, because they "have no value outside Steam".
These funds are intended to be used to buy subscriptions or other Steam-related content only.
How to send a digital steam gift card
Follow these steps to send a Steam gift card to anyone:
Visit the Steam website and log into your Steam account.
Choose the dollar amount of the card you want to send.
Select the friend on your Steam friends list you'd like to send the steam gift card to. The recipient should be on your friend's list.
Confirm your transaction
Steam will email you to confirm that the transaction was made successfully, and your digital Steam card will be sent immediately.
For questions and enquiries on the Steam gift card, please leave a comment in the section below.