Looking to start a profitable business in Uganda? You're in the right place! While the business landscape in Uganda offers exciting prospects, success requires careful planning, market research, and adaptability. Understanding the local culture, consumer behavior, and regulatory framework is crucial for establishing and growing a business in Uganda. Moreover, leveraging digital platforms, adopting innovative strategies, and building strong networks can enhance the chances of entrepreneurial success. This article serves as a guide, shedding light on profitable business ideas in Uganda and providing insights into the key considerations and opportunities that can empower entrepreneurs to make informed decisions and embark on a successful business journey in this vibrant East African nation.
One of the key advantages of doing business in Uganda is its growing consumer market. With a young and growing population, there is a rising demand for products and services in sectors such as education, healthcare, retail, and entertainment. This opens doors for businesses in private schools, healthcare clinics, e-commerce platforms, boutique stores, and event management. Furthermore, renewable energy solutions have significant potential in Uganda, given the country's aim to increase access to electricity and reduce reliance on traditional energy sources. Businesses focused on solar power systems, biogas production, and energy-efficient solutions can tap into this growing market
As Uganda experiences steady economic growth, it presents an array of profitable business opportunities across various sectors. Agriculture stands out as a prime sector due to Uganda's fertile land and favorable climate, offering potential in areas such as crop farming, livestock rearing, and agro-processing. The tourism industry is also flourishing, driven by Uganda's breathtaking natural landscapes, wildlife, and cultural heritage, making ventures in hospitality, eco-tourism, and tour operations highly lucrative.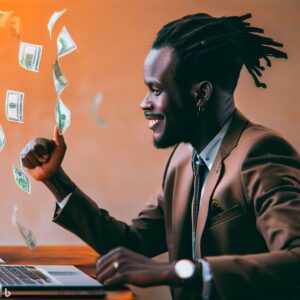 High-profit business opportunities in Uganda
Here are some high-profit business opportunities in Uganda that you might consider:
1. Agriculture and Agribusiness:
Uganda has a favorable climate for agriculture, offering opportunities in crop farming, livestock rearing, and agro-processing. Focus on high-value crops, organic farming, or niche products to maximize profitability.
2. Tourism and Hospitality:
Uganda is known for its stunning landscapes, national parks, and diverse wildlife. Starting a tourism-related business, such as eco-lodges, tour operators, or adventure sports activities, can be lucrative.
3. Renewable Energy:
With the increasing demand for clean energy, investing in renewable energy solutions like solar power installations, biogas production, or hydroelectric power projects can yield high profits.
4. Real Estate Development:
Uganda's growing population and urbanization present opportunities in real estate development. Consider building residential and commercial properties, especially in rapidly developing areas or tourist hotspots.
5. Information Technology (IT) Services:
The IT sector in Uganda is expanding rapidly, creating opportunities in software development, web design, mobile app development, IT consulting, and cybersecurity services.
6. Manufacturing and Processing:
Establishing manufacturing units for value-added products, such as food processing, textiles, construction materials, or packaging, can be profitable in Uganda's growing consumer market.
7. Health and Wellness:
The healthcare sector is witnessing growth in Uganda. Explore opportunities in areas like private clinics, specialized healthcare services, fitness centers, wellness spas, or organic products.
8. E-commerce and Online Services:
With the increasing internet penetration, starting an e-commerce platform, online retail store, digital marketing agency, or delivery services can tap into the growing digital market.
9. Education and Training:
Uganda has a demand for quality education and vocational training. Establishing schools, tutoring centers, skill development institutes, or offering professional training courses can be profitable.
10. Waste Management and Recycling:
Addressing the waste management challenges in Uganda through recycling initiatives, waste collection services, or compost production can be both profitable and environmentally friendly.
Remember to conduct thorough market research, develop a comprehensive business plan, and consider factors such as target audience, competition, and local regulations before pursuing any business opportunity.
Profitable small-scale business ideas in Uganda
Here are some profitable small-scale business ideas in Uganda that you might consider:
1. Food Stall or Restaurant:
Start a small food stall or restaurant that offers popular local dishes or specializes in a specific cuisine. Consider targeting busy areas, office complexes, or universities to attract customers.
2. Boutique or Fashion Store:
Open a boutique or small fashion store that sells trendy clothing, accessories, or footwear. Focus on unique designs or niche markets to stand out from competitors.
3. Mobile Money Agent:
Become a mobile money agent by partnering with a mobile money service provider. Offer services such as money transfers, bill payments, and mobile airtime sales to earn commissions.
4. Beauty and Grooming Services:
Start a beauty salon or barbershop offering services like haircuts, hairstyling, manicures, pedicures, or makeup application. Target urban areas or residential communities with high foot traffic.
5. Event Planning and Management:
If you have organizational skills and creativity, offer event planning and management services for weddings, parties, corporate events, or conferences. Build a network of reliable vendors and suppliers.
6. Laundry and Dry Cleaning:
Set up a small-scale laundry business that offers laundry and dry cleaning services to individuals and businesses. Consider providing additional services such as ironing or garment repair.
7. Organic Farming and Produce:
Start an organic farm that grows and sells fruits, vegetables, or herbs. Capitalize on the increasing demand for organic produce in local markets or supply to health food stores and restaurants.
8. Printing and Design Services:
Invest in printing equipment and offer services like business card printing, flyer design, poster printing, or custom merchandise printing. Target small businesses, schools, or individuals in need of promotional materials.
9. Pet Care Services:
Provide pet care services such as pet grooming, dog walking, or pet sitting. Target busy professionals or individuals who may need assistance in taking care of their pets.
10. Mobile Phone and Accessories Retail:
Open a small retail shop that sells mobile phones, accessories, and related services like phone repairs or unlocking. Stay updated with the latest phone models and accessories to attract customers.
Remember to assess the market demand, competition, and potential profitability before starting any small-scale business. Adapt the ideas to suit your skills, interests, and available resources, and always have a well-thought-out business plan in place
How to start a business in Uganda
To start a business in Uganda, here are the general steps you can follow:
Choose a business idea.
Conduct market research.
Develop a business plan.
Register your business with the Uganda Registration Services Bureau (URSB).
Register for taxes with the Uganda Revenue Authority (URA).
Obtain any required licenses and permits.
Secure funding for your business.
Find a suitable location for your business.
Purchase or lease necessary equipment and supplies.
Hire employees, if needed.
Develop a marketing strategy.
Launch your business and start operations.
Business ideas with low startup costs in Uganda
Here are some business ideas with low startup costs in Uganda:
Freelance Services
Street Food Vendor
Mobile Repair Shop
Cleaning Services
Personalized Printing
Home-Based Bakery
Event Decoration
Tutoring Services
Car Wash
Online Reselling
Remember to choose a business idea that aligns with your interests, skills, and available resources. Conduct thorough research and planning before starting any business.
Lucrative sectors in Uganda
There are several lucrative sectors in Uganda that present business opportunities. Here are some of the key sectors:
Agriculture
Tourism and Hospitality
Energy and Power
Manufacturing and Processing
Information and Communication Technology (ICT)
Financial Services
Real Estate and Construction
Education and Training
Health and Pharmaceuticals
Infrastructure Development
These sectors offer various business opportunities and potential for growth and profitability in Uganda.
RECOMMENDED:
Best business ideas in Uganda
Here is a list of business ideas in Uganda:
Crop farming
Poultry farming
Dairy farming
Fish farming
Agro-processing
Safari lodge or eco-tourism business
Guided tours and adventure activities
Solar panel installation
Biogas production
Education and training center
E-commerce store
Digital marketing services
Web design and development
Health clinic or pharmacy
Fitness center or gym
Real estate development
Property rental business
Food processing business
Textile production
IT services (software development, mobile app development, IT consulting)
Waste management and recycling
Restaurant or food stall
Boutique or fashion store
Mobile money agent
Beauty salon or barbershop
We hope you found this article helpful and informative. If you are looking for more profitable business ideas in Uganda, you can bookmark our website and check back regularly for updates. You can also share this article with your friends and family who might be interested in starting a business in Uganda. Thank you for reading and good luck with your ventures!