United Arab Emirates is competing favourably with other countries Dubai is in position of top companies in the world today. Oil Production contribute 50% of their total Gross Domestic Product GDP, their major focused is tourism that why they are building hotels and developing real estate.
This alone has attracted several foreign investors into the country that is why most of the top companies is found in Dubai not just that this has increased the employment rate in the country. As of 2015 Dubai has a record of 12.5% increase of registered companies because 9,317 new firms were registered under the Dubai trade currently Dubai has a total of 106,000 registered companies in the country.
As of 2017 has issued 249,000 license to registered business and they have created over 570,000 jobs opportunities in the country that is why people are moving to Dubai everyday we are going to look at the top companies in United Arab Emirates (Dubai).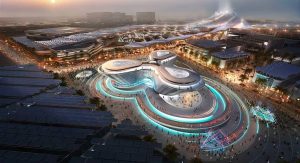 Top Companies in United Arab Emirates (Dubai) 
Here are Top Companies in United Arab Emirates (Dubai):
1. First Abu Dhabi Bank:
Among all the bank in United Arab Emirates this bank is the only largest that we have in the whole of Dubai this particular bank was created when two biggest bank in the country merge together the bank were First Gulf Bank and National Bank of Abu Dhabi this bank offers banking services including financial solutions.
2. Emirates NBD Bank:
This particular bank is owned by Dubai government and is rated one of the largest group of banks in United Arab Emirates in terms of asset that is owned by the bank according to the report carry out in 2022 their total net worth was AED 694 Billion.
3. Etisalat Group:
This particular company is a currently a telecommunication group of service  provider. According to the report it is the 18th largest mobile network provider in the world because of the number of subscribers that is on ground already as of 2022 their name was rebranded and changed to e&.
4. Emaar Properties :
This company is multi-national real estate company that is located in United Arab Emirates this company is among the top real estate company in the world and it is recognized global for providing property development and management services.
5. Aldar Properties :
Aldar properties is a company that is into real estate they management and do development their current headquarters is in Abu Dhabi, located in United Arab Emirates. Major project that is handled by Aldar Properties include: Ferarri World, Yas Marina Circuit, and Yas Island.
Top 100 United Arab Emirates Companies
Here are the top 100 companies in the United Arab Emirates:
Saudi Electricity
FGB
Saudi Telecom
National Bank of Abu Dhabi
Al Rajhi Bank
Emirates NBD
Etisalat
National Commercial Bank
QNB
SABIC
Banque Saudi Fransi
Saudi British Bank
Emaar Properties
Ooredoo
DP World
Kuwait Finance House
Riyad Bank
Simba Financial Group
National Bank of Kuwait
Abu Dhabi Commercial Bank
Qatar Islamic Bank
Savola Group
Industries Qatar
Almarai
Zain
Mashreq Bank
Arab National Bank
Arab Bank
Attijariwafa Bank
Dubai Islamic Bank
Saudi Hollandi Bank
KIPCO
Commercial Bank of Qatar
Abu Dhabi Islamic Bank
DAMAC Properties
Banque Centrale Populaire
Bank Audi
Ahli United Bank
Commercial International Bank
Saudi Arabian Mining
Doha Bank
Kingdom Holding
Du
Qatar Insurance
Barwa
BLOM Bank
Bank Muscat
Union National Bank
BMCE Bank
Aldar Properties
Commercial Bank of Dubai
Petro Rabigh
Alinma Bank
Bahri
WOQOD
Nakilat
Mobily
Masraf Al Rayan
RAKBANK
Ezdan Holding
Qatar International Islamic Bank
Bank AlJazira
TAQA
Jarir Marketing
Al Baraka Banking Group
Bank Albilad
Al Tayyar Travel Group
Americana Group
Arab Banking Corporation
Saudi Investment Bank
The Company for Cooperative Insurance
Qatar Electricity and Water
Ahli Qatar Bank
TASNEE
Byblos Bank
Bupa Arabia
MILAHA Maritime and Logistics
Fawaz Abdulaziz Alhokair
Saudi Industrial Investment Group
Housing Bank
Arabtec Holding
Gulf Bank
Bank of Beirut
Southern Province Cement
Telecom Egypt
Global Telecom Holding
United Development Company
Jabal Omar Development
Mesaieed Petrochemical Holding
Agility
Arab Potash
Saudi Airlines Catering
Al Ahli Bank of Kuwait
Gulf International Services
Commercial Bank of Kuwait
Al Khalij Commercial Bank
Saudi Cement
Alba
Zain KSA
Dubai Investments
How Can I Apply for Jobs in Dubai?
Dubai is a prime destination for job seekers, and there are several ways to pursue opportunities:
1. Job Platforms Online:
Check out online job platforms like LinkedIn, Indeed, GulfTalent, and Bayt.com. You can apply for jobs from anywhere, and many employers conduct online interviews.
2. Recruitment Agencies:
Utilize recruitment agencies in Dubai. They connect job seekers with employers, streamlining the process and offering personalized recommendations.
3. Walk-In Interviews:
If you're adventurous, consider attending walk-in interviews in Dubai. Visit companies with job openings, but be prepared for potential challenges.
4. Networking:
Expand your network through social media platforms like LinkedIn and industry events. Networking can open doors to unadvertised opportunities.
Each method has its advantages, so choose the one that suits your preferences and resources best. Dubai's job market is diverse, and with the right approach, you can find your dream job in this dynamic city.
Innovative companies in the United Arab Emirates
The United Arab Emirates (UAE) is home to a thriving ecosystem of innovative companies across various industries. Here are some innovative companies in the UAE that have made significant strides:
Careem
Mubadala Investment Company
Dubai Future Foundation
Hub71
Beam Wallet
G42 Group
Fetchr
Cafu
Bee'ah
DIFC FinTech Hive
These innovative companies and organizations in the UAE showcase the nation's commitment to fostering a culture of innovation, technology adoption, and entrepreneurship, positioning the country as a hub for cutting-edge advancements in the Middle East and beyond.
READ ALSO:
Dubai's economic influencers
Dubai's economic landscape is influenced by a multitude of factors and key players. Here are some of the most prominent economic influencers in Dubai:
1. Government Initiatives:
Dubai's economic growth is driven by the visionary initiatives of the government, such as Dubai Vision 2021 and Dubai Plan 2021. These frameworks lay out strategic goals for economic diversification, infrastructure development, and sustainable growth.
2. Free Zones:
Dubai's numerous free zones, including Dubai International Financial Centre (DIFC), Jebel Ali Free Zone (JAFZA), and Dubai Internet City, attract foreign investment by offering tax incentives, 100% ownership, and streamlined business setup processes.
3. Real Estate Development:
The real estate sector is a significant economic influencer, with iconic projects like the Burj Khalifa and Palm Jumeirah showcasing Dubai's ambition. Major developers like Emaar Properties and Nakheel play a crucial role in shaping the city's skyline.
4. Financial Sector:
Dubai is a regional financial hub, driven by institutions like Emirates NBD, Dubai Islamic Bank, and the DIFC. These entities facilitate international trade and investment and contribute to the city's economic stability.
5. Tourism:
Tourism is a major economic driver, with companies like Emirates Airlines and Emaar Hospitality Group attracting millions of visitors annually. Events like the Expo 2020 Dubai further boost tourism and related industries.
6. Logistics and Transport:
Dubai's strategic location as a global transportation hub is influenced by companies like DP World, which operates one of the world's busiest ports, and Emirates SkyCargo, a leading air cargo carrier.
7. Technology and Innovation:
Dubai's commitment to innovation is evident through organizations like Dubai Future Foundation and Dubai Silicon Oasis Authority, which foster tech startups and cutting-edge research.
8. Retail and Entertainment:
Retail giants like Majid Al Futtaim and Emaar Malls create immersive shopping and entertainment experiences, attracting residents and tourists alike.
9. Energy:
Dubai's energy sector is evolving with Dubai Electricity and Water Authority (DEWA) focusing on sustainable energy solutions, including solar power and green initiatives.
10. Global Events:
Hosting international events like the World Expo and the Dubai Airshow showcases Dubai on the global stage, attracting business opportunities and fostering international relations.
These economic influencers collectively contribute to Dubai's status as a dynamic and thriving business hub in the Middle East, where innovation and ambition are central to its success.
I hope you enjoy reading this article still the end please don't forget to share this article with your friends and also check back on us for more valuable content