Top cities in Paraguay 2023! Paraguay is a landlocked country in the heart of South America, with a rich and diverse culture, history and nature. It is a destination that offers something for everyone, from the bustling capital of Asuncion to the tranquil countryside of the Gran Chaco.
Did you know that Paraguay has two official languages, Spanish and Guarani? Guarani is an indigenous language that is spoken by 90% of the population, regardless of their ethnicity or social class. It is one of the few native languages in the Americas that has survived and thrived alongside a colonial one. Paraguayans are very proud of their linguistic heritage and often greet each other with the word "Mba'éichapa", which means "How are you?" in Guarani.
In this article, we will explore the top 10 cities in Paraguay that you should visit in 2023, based on their attractions, amenities and charm.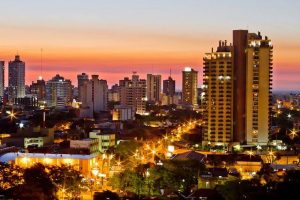 Top 10 cities in Paraguay 2023
Here are the top 10 cities in Paraguay:
Asunción: The capital and largest city, known for its historic architecture and cultural attractions.
Ciudad del Este: A major commercial city on the border with Brazil, famous for shopping and the Itaipu Dam.
Encarnación: Located on the Paraná River, known for its beautiful riverfront and the lively Carnival celebrations.
San Lorenzo: A city close to Asunción, offering historical sites and parks.
Lambare: Known for its parks, gardens, and cultural events.
Fernando de la Mora: A residential city with historical sites and green spaces.
Luque: Home to the Silvio Pettirossi International Airport and sports facilities.
Capiatá: Known for its agriculture and historical sites.
Pedro Juan Caballero: A border city with Brazil, known for trade and commerce.
Concepción: A city with a rich history and cultural heritage, offering historical landmarks and natural beauty.
What are the 3 biggest cities in Paraguay?
The 3 biggest cities in Paraguay by population are Asunción, Ciudad del Este, and San Lorenzo. Asunción is the capital and largest city of Paraguay, with a population of about 1.5 million people. Ciudad del Este is the second largest city and a major economic and commercial hub, with a population of about 320,000 people. San Lorenzo is the third largest city and an important educational and cultural center, with a population of about 227,000 people.
Where is the best place to live in Paraguay?
The best place to live in Paraguay for expats depends on personal preferences and needs. Some of the most popular places to live in Paraguay are:
Areguá: A charming city with a colonial architecture, a rich cultural heritage, and a famous strawberry festival. It is located near the Ypacaraí Lake and offers a tranquil and scenic environment.
Encarnación: A modern and vibrant city with a pleasant climate, a beautiful riverfront, and a lively nightlife. It is the gateway to the Jesuit Missions, a UNESCO World Heritage Site, and hosts the largest carnival in the country
Asunción: The capital and most cosmopolitan city of Paraguay, with a variety of amenities, services, and entertainment options. It has a historic center, a modern district, and a green and leafy suburb. It is also the main transport and communication hub of the country
What is the most beautiful city in Paraguay?
The most beautiful city in Paraguay is a subjective matter, but some of the candidates are:
Pilar: A picturesque city with a combination of magnificent architecture and vast areas of greenery. It lies on the banks of the Paraguay River and has a rich history and culture. It is also known for its pottery and handicrafts.
Fuerte Olimpo: A remote and charming city with a unique circular shape and a high wall. It is surrounded by hills, forests, and rivers, and offers a stunning view of the natural scenery. It is also a gateway to the Pantanal, the world's largest tropical wetland area.
Ipacaraí: A serene city with a mystical lake that reflects the sky and the trees. It is a popular tourist destination and a center of musical and artistic expression. It is also famous for its lace and embroidery.
What are the names of the states in Paraguay?
The names of the states in Paraguay are:
Alto Paraguay
Alto Paraná
Amambay
Boquerón
Caaguazú
Caazapá
Canindeyú
Central
Concepción
Cordillera
Guairá
Itapúa
Misiones
Ñeembucú
Paraguarí
Presidente Hayes
San Pedro
Asunción (capital district)
Is Paraguay a poor or rich country and why?
Paraguay is considered a lower-middle-income country by the World Bank, with a gross national income per capita of $4,220 in 2020. However, it has a high level of inequality, with a Gini coefficient of 0.47 in 2019, meaning that the income distribution is very uneven.
Paraguay's economy is mainly based on agriculture, livestock, and hydroelectricity, but it faces challenges such as corruption, weak institutions, poor infrastructure, and low human capital. Paraguay also has a large informal sector, which accounts for about 40% of the gross domestic product and 70% of the employment.
SEE ALSO:
What are the 5 most populated cities in Paraguay?
The 5 most populated cities in Paraguay are:
Asunción: 1,500,000 people
Ciudad del Este: 320,782 people
San Lorenzo: 227,876 people
Luque: 209,494 people
Capiatá: 198,553 people
Ask questions and add comments in the space provided below, then share this article with others.