Are you planning a trip to Thailand in 2023? Do you want to know the best cities to visit in Thailand in 2023? Do you want to know what are the best times to visit Thailand and avoid the crowds and the rainy season? then this article is for you.
Thailand is a country that attracts millions of tourists every year with its diverse landscapes, rich culture, delicious cuisine, and friendly people. But where are the best places to visit in this Southeast Asian nation? What are the top cities that offer the most memorable experiences for travelers? And what are the hidden gems that are waiting to be discovered?
In this article, we will explore the top 10 cities in Thailand that you should not miss in 2023. Whether you are looking for a bustling metropolis, a serene mountain retreat, a tropical island paradise, a historical heritage site or a natural wonder, you will find something to suit your taste and budget in these amazing destinations.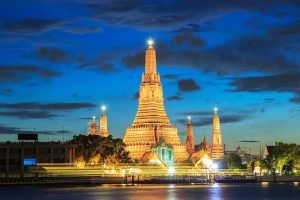 What are the best cities to visit in Thailand in 2023?
Thailand is a wonderful country to visit with friends, as it offers a variety of attractions, activities, and experiences for all tastes and budgets. Some of the best cities to visit in Thailand in 2023 are:
Bangkok: Vibrant city with cultural sites like the Grand Palace and modern attractions. Ideal for day trips to markets and historical sites.
Chiang Mai: Charming city surrounded by mountains, famous for temples, cooking classes, and access to nature spots.
Phuket: Largest island, renowned for beautiful beaches, water sports, lively nightlife, and easy island hopping.
Krabi: Scenic province with stunning landscapes, limestone cliffs, caves, waterfalls, and gorgeous islands.
Pattaya: Coastal city with beaches, attractions like the Sanctuary of Truth, and vibrant nightlife on Walking Street.
How to plan a trip to Thailand in 2023?
To plan your trip to Thailand:
Decide When and Where: Thailand has three main seasons. Consider avoiding peak tourist times (November-March) or the rainy season (June-October). Explore different regions for diverse experiences: north for culture and nature, south for beaches, or east for islands.
Book Your Essentials: Use websites like Skyscanner or Expedia for flights, Booking.com or Airbnb for accommodation, and 12Go Asia or Trainline for transport options.
Plan Your Itinerary: Explore historical sites, cultural attractions, adventurous activities, delicious cuisine, nightlife, and friendly locals. Get recommendations and book experiences via platforms like Tripadvisor or Klook.
What are the most popular attractions and activities in Bangkok, Chiang Mai, Phuket and other top cities in Thailand
Bangkok, Chiang Mai, Phuket and other top cities in Thailand have something for everyone. Here are some of the most popular attractions and activities in each city:
Bangkok: The capital and largest city of Thailand, Bangkok is a bustling metropolis that combines modern skyscrapers with ancient temples. Some of the must-see attractions in Bangkok are the Grand Palace, Wat Pho, Wat Arun, Chatuchak Weekend Market, Khao San Road, and Chinatown. Some of the fun activities in Bangkok are taking a boat ride along the Chao Phraya River, visiting the floating markets, enjoying the street food, shopping at the malls and night markets, and experiencing the nightlife.
Chiang Mai: The second-largest city and the cultural hub of northern Thailand, Chiang Mai is surrounded by mountains and forests. Some of the must-see attractions in Chiang Mai are the Old City, Doi Suthep, Wat Phra That Doi Suthep, Wat Chedi Luang, and the Night Bazaar. Some of the fun activities in Chiang Mai are visiting the elephant sanctuaries, hiking in the national parks, ziplining through the jungle, taking a cooking class, and relaxing at the spas.
Phuket: The largest and most popular island in Thailand, Phuket is famous for its stunning beaches, crystal-clear waters, and lively nightlife. Some of the must-see attractions in Phuket are Patong Beach, Kata Beach, Karon Beach, Phuket Town, Big Buddha, and Phang Nga Bay. Some of the fun activities in Phuket are snorkeling, diving, surfing, kayaking, island hopping, and partying.
Other top cities: Thailand has many other top cities that are worth visiting, such as Krabi, Koh Samui, Pattaya, Hua Hin, Chiang Rai, and more. Each city has its own unique charm and attractions, such as the Railay Beach, the Ang Thong National Marine Park, the Sanctuary of Truth, the Cicada Market, the White Temple, and more.
How to travel around Thailand by train, bus, plane or car?
Thailand offers diverse transport options:
Train: Comfortable and scenic, operated by State Railway of Thailand. Affordable but occasionally slow and prone to delays. Major routes link Bangkok to cities like Chiang Mai, Nong Khai, Ubon Ratchathani, Surat Thani, and Hat Yai.
Bus: Fast and convenient, run by various companies. Varying comfort levels from economy to VIP, with amenities like AC and entertainment. Inexpensive but can be crowded and occasionally unsafe. Major terminals in Bangkok: Mo Chit, Sai Tai Mai, and Ekkamai.
Plane: Quick and easy for long distances, operated by airlines like Thai Airways, Bangkok Airways, AirAsia, and Nok Air. Offers different fares and services, but can be relatively expensive and subject to availability. Major airports: Suvarnabhumi, Don Mueang, Chiang Mai, Phuket, and Krabi.
Car: Flexible and independent, rented from agencies like Avis, Budget, and Hertz. Different models and prices, including features like GPS and insurance. Costly and requires a valid driver's license, but offers freedom and control. Major roads: highways, expressways, and rural roads.
What are the best times to visit Thailand and avoid the crowds and the rainy season?
While there are many festivals throughout the cold and dry season (November to March), which is often the most pleasant and popular time to visit Thailand, the ideal time to go will depend on your interests and priorities. However, this also means that the crowds are large and the costs are inflated, so you may want to skip this season if you are hoping for a quieter and cheaper experience.
It is not recommended to come during the hot season (April-June) because of the extreme humidity, heat, and pollution. But, this also means that there are fewer people and lower rates, so if you're searching for a deal and a challenge, you might want to think about going during this time.
With variable weather that varies by location and heightened hazards of landslides and floods, the rainy season (June to October) is a mixed bag. If you're searching for a balance between surprises and balance, you might want to select this time of year because it also indicates that the crowds are mild and the costs are fair.
READ ALSO:
What are the best hotels, resorts and hostels to stay in Thailand in 2023?
The best hotels, resorts and hostels to stay in Thailand in 2023 may depend on your budget, preferences and travel plans. Some of the highly rated and recommended accommodations are:
Barn & Bed Hostel in Bangkok, a stylish and cozy hostel with a rooftop garden and a library
Anantara Golden Triangle Elephant Camp & Resort in Chiang Rai, a luxury resort that offers an unforgettable experience with elephants and stunning views of the Mekong River.
Book a Bed Poshtel in Phuket, a modern and chic hostel with a pool, a bar and a co-working space
Na-Tub Hostel in Koh Phangan, a friendly and fun hostel that is perfect for party lovers and moon-light festival goers
The Common Hostel in Koh Tao, a minimalist and elegant hostel that caters to digital nomads and divers
In 2023, exploring the lively charm of Thailand's most dynamic cities is just the start of your Southeast Asian journey. Accept the diverse array of cultures, cuisines, and sites that are just waiting for you to discover.
Save this page to your favorites to receive regular updates on the newest travel trends and must-see locations. To inspire others to travel, forward this article to other adventurous people. Let Thailand's spirit inspire you as you organize your next trip, beckoning you to return time and time again to its energetic streets and tranquil scenery.