Discover the top shopping destinations in Iceland in 2023! If you're on the hunt for a unique and memorable shopping experience, Iceland should be at the forefront of your travel plans. While known for its stunning natural landscapes, Iceland also boasts a growing selection of exceptional malls and retail spaces that are sure to delight shoppers from around the world.
In 2023, Iceland's shopping landscape is undergoing a remarkable transformation. Whether you're a local resident or a globe-trotting traveler, you'll find a wealth of exciting options to explore. This guide takes you on a tour of Iceland's top shopping malls, each offering its own blend of luxury brands, local treasures, and immersive experiences. Prepare to be captivated by the fusion of shopping and Iceland's captivating natural beauty – it's a retail adventure that promises to be truly extraordinary.
Our guide will introduce you to the must-visit malls, showcasing their distinctive offerings, top-notch brands, and unforgettable encounters. Don't miss the chance to blend retail therapy with Iceland's breathtaking natural wonders – it's a shopping odyssey like no other, waiting for you to explore!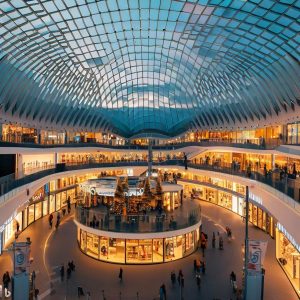 Where do people in Iceland shop?
People in Iceland shop in various places, depending on what they are looking for and how much they are willing to spend. Some of the most popular shopping destinations in Iceland are:
1. Kolaportiđ Flea Market:
Reykjavik's weekly flea market offers books, clothes, antiques, souvenirs, and local delicacies, with a lively atmosphere and haggling opportunities.
2. Reykjavik City Center:
Explore Laugavegur, Skólavörđustígur, and Bankastræti for Icelandic design, fashion, handicrafts, and souvenirs.
3. Handknitting Association of Iceland:
Get a traditional Icelandic sweater (lopapeysa) made from Icelandic wool, known for its warmth and style.
4. Frú Lauga's Farmers Market:
Discover fresh, organic produce from local farmers, including fruits, vegetables, dairy, meat, bread, and more.
5. Shopping Malls:
For convenience, visit Reykjavik's malls like Kringlan and Smáralind, offering a wide range of stores, restaurants, cinemas, and services.
Best shopping malls in Iceland 2023
Here are some of the most popular and recommended shopping malls in Iceland:
Kringlan Mall: Iceland's largest shopping mall, in Reykjavík, with 150+ shops, restaurants, and a cinema. Open daily 10:00-18:30 (Sundays 10:00-17:00).
Smáralind: Another large mall in Reykjavík, 90+ shops, restaurants, cinema. Open daily 10:00-19:00 (Sundays 10:00-18:00).
Bonus: A supermarket chain with low prices, various locations including Reykjavík, Akureyri, Selfoss.
Icewear Vík Wool Vikurprjon: Specializes in Icelandic wool products, located in Vík. Open daily 9:00-18:00.
What are some popular Icelandic souvenirs?
Some popular Icelandic souvenirs are:
1. Lopapeysa:
This is a traditional Icelandic woolen sweater with distinctive patterns and colors. It is warm, water-repellent, and stylish. You can find them in many shops around Iceland, or you can buy the yarn and knit your own
2. Chocolate and licorice:
Icelanders love sweets, especially chocolate and licorice. You can find many varieties of these treats, some with sea salt, pepper, marzipan, or other fillings. Omnom Chocolate is one of the most famous brands, and it has a bar flavored with licorice and sea salt that is very Icelandic.
3. Harðfiskur:
This is a dried fish snack that is rich in protein, low in fat, and gluten-free. It is made by salting and hanging fish to dry for weeks or months. It has a strong flavor and a crunchy texture. You can eat it with butter or as it is. You can find it in supermarkets or souvenir shops.
Iceland's top malls for tourists
The top shopping malls in Iceland for tourists offer a diverse range of retail experiences and opportunities to explore Icelandic culture. Here are some of the top malls that tourists often visit:
Kringlan Mall (Reykjavik): Iceland's largest shopping center in the capital, offering a wide range of shops, including Icelandic souvenirs.
Smáralind (Kópavogur): A popular mall near Reykjavik with diverse shopping, dining, and entertainment options.
Akureyri Mall (Akureyri): Convenient for tourists exploring northern Iceland, providing shopping opportunities.
Höfðatorg (Reykjavik): In the business district, this mall features designer boutiques and fine dining.
Ártúnshöfði (Reykjavik): Known for Icelandic handicrafts and unique souvenirs.
Kauptún (Reykjavik): Near the city center, offering various shops for tourists exploring Reykjavik.
These malls are perfect for tourists seeking Icelandic products, souvenirs, and a taste of local mall culture.
Is there a Walmart in Iceland?
No, there is no Walmart in Iceland. Walmart is an American retail corporation that operates a chain of hypermarkets, discount department stores, and grocery stores. It does not have any branches or franchises in Iceland.
However, there are some Icelandic stores that are similar to Walmart in some ways. One of them is Hagkaup, which is often compared to Walmart by travelers and bloggers. Hagkaup is an Icelandic retailer that sells a wide range of products, such as food, clothing, cosmetics, housewares, toys, and more. It has seven locations across the country, and some of them are open 24 hours a day.
Another store that resembles Walmart in Iceland is Costco, which is an American multinational corporation that operates a chain of warehouse clubs. Costco opened its first and only store in Iceland in 2017, near Reykjavik. It offers low prices on bulk items, such as groceries, electronics, furniture, appliances, and more. You need to have a membership card to shop at Costco.
Is it expensive to buy clothes in Iceland?
Clothing costs in Iceland are generally higher than in other parts of Europe and the United States. The average prices for some common items of clothing are as follows:
A pair of leather shoes for suit: $193
A pair of jeans: $113
A summer dress for a woman: $50
A pair of Nike sneakers: $143
These prices may vary depending on the location, shop, and brand of the clothing.
How to get cheap food in Iceland?
Getting cheap food in Iceland can be challenging, but not impossible. Here are some tips and tricks to help you save money on food while traveling in Iceland:
1. Grocery shopping:
Buy food at budget-friendly stores like Bónus and Krónan. Stock up on essentials like bread, cheese, eggs, yogurt, fruits, vegetables, pasta, and frozen or microwave-ready meals.
2. Street food and fast food:
Opt for affordable options like hot dogs, fish and chips, pizza, burgers, sandwiches, and noodles at places like Bæjarins Beztu Pylsur, Reykjavik Chips, Fish and Chips Vagninn, Vietnoodles, or Krua Thai. International fast food chains like Subway, Domino's, or KFC are also available.
3. Skip restaurants and cafes:
Eating out can be pricey, with meals at restaurants costing $20-$30 per person and cafe coffees at $5-$6. Reserve them for special occasions or local delicacies like lamb, seafood, or skyr.
4. BYO snacks and drinks:
Save on expensive convenience store snacks and drinks by bringing your own, like nuts, granola bars, dried fruits, crackers, cheese, and chocolate. Use a reusable water bottle and fill it with Iceland's delicious tap water.
5. Coupons and discounts:
Find deals online at websites like Reykjavik Coupons or local brochures at tourist centers, hotels, hostels, or car rental agencies for discounts on food and other services.
SEE ALSO:
Iceland shopping guide 2023
Iceland offers a unique shopping experience with a focus on local crafts, outdoor gear, and Icelandic design. Here are some recommendations:
1. Woollen Goods:
Icelandic wool is renowned for its quality. Look for traditional Icelandic sweaters (lopapeysa), hats, and scarves made from this warm and durable material.
2. Handcrafted Souvenirs:
Iceland is known for its artisanal products such as lava jewelry, ceramics, and glassware. Check out local markets and boutiques for unique souvenirs.
3. Outdoor Gear:
If you're into outdoor activities like hiking and camping, Iceland offers a great selection of outdoor gear. Visit stores like Útilíf or Iceland Camping Equipment for quality equipment.
4. Icelandic Design:
Explore boutiques in Reykjavik that showcase Icelandic fashion and design. You'll find contemporary clothing, jewelry, and homeware by local designers.
5. Local Food and Drink:
Don't forget to pick up some Icelandic delicacies like smoked salmon, dried fish, and licorice. You can also explore local liquors such as Brennivín and craft beers.
6. Books:
Iceland has a rich literary history. Visit bookstores like Eymundsson to browse through Icelandic literature, including works by famous authors like Halldór Laxness.
7. Music:
Icelandic music is unique and diverse. Look for albums by Icelandic artists, especially in genres like post-rock and folk.
8. Antiques:
If you're into antiques, Reykjavik has several shops with a selection of vintage items, including old maps, furniture, and more.
9. Secondhand Stores:
Icelanders love thrift shopping, and you can find some great secondhand clothing and goods in stores like Spúútnik.
10.Local Markets:
Keep an eye out for local markets and flea markets, especially on weekends. They often feature a mix of handmade crafts, vintage items, and food stalls.
Remember that prices in Iceland can be high, so it's a good idea to set a budget and prioritize what you'd like to bring back home.
Do well to leave your comments and questions in the box below and don't forget to share this article with others. Enjoy your shopping adventure in Iceland!