Canada's Alberta! Are you curious about the attractions in Alberta? Are you inquiring about Alberta's current minimum wage? Do you have any doubts about Alberta, Canada, as a place to call home? Do you wish to learn more about Alberta's weather?
Alberta is a Western Canadian province. It has mountains, plains, desert badlands, and enormous coniferous woods. It includes around 600 lakes and significant mineral reserves. The Canadian Rocky Mountain Parks have glaciers in the Columbia Icefields in the west. Waterton Glacier International Peace Park is a biosphere reserve on Canada's southern border with the United States.
This article will cover a variety of topics, including what Alberta is famous for in Canada, what draws people there, the minimum wage there, the weather there, and much more.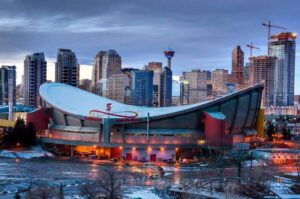 Is Alberta a nice area to live in Canada?
Alberta offers a good standard of living, diverse and inviting communities, and breathtaking scenery. Alberta is home to several world-class services and a diverse range of cultures and communities.
In Alberta, how many cities are there?
In Alberta, city status has been given to 19 municipalities. Over 10,000 inhabitants are required for a population to be considered sufficient to be considered a city. Ward systems with the same number of council members in each ward may be established by cities.
What is Alberta known for in Canada?
Canada's Alberta is recognized for having a major oil industry. Its crude oil reserves are the third-largest in Canada, with the most of them coming from the Athabasca Oil Sands.
What draws people to Alberta?
Alberta contains some of the most cheap property markets in the world, and Calgary and Edmonton even rank among the top cities in the nation for work-life balance.
The Alberta population
With a population of nearly 4.5 million, Alberta is the fourth-most populous province in Canada. The population of Alberta represents 11.57 percent of the total population of the nation. The fourth and fifth most populous cities in Canada, Calgary and Edmonton, are located there. Edmonton, the capital of Alberta, is one of the ten largest cities in Canada. One of Canada's thirteen provinces, Alberta has a total area of 640,081 km2, making it one of the larger provinces.
In the first half of 2022, Alberta gained 40,253 residents. Alberta's population was 4,543,111 as of July 1, 2022.
Alberta's weather conditions
Alberta gets the most sunshine of any Canadian province and has a continental climate. Winters are dry, bright, and chilly, yet Chinook breezes, which occur when warm, dry air from the Pacific descends the eastern slopes of the Rockies, can elevate temperatures by 40 degrees Fahrenheit (22 degrees Celsius) in an hour or less. Summers are hot and humid (unless in drought years), with damaging hailstorms and tornadoes on occasion.
In January, the mean and extreme temperatures in Edmonton are 6 and 59 °F (14 and 51 °C), respectively, and 60 and 95 °F (16 and 35 °C) in July. Edmonton receives an average of 18 inches (460 mm) of precipitation each year, compared to 12 inches (300 mm) in the dry southeast and more than 50 inches (1,270 mm) in the highlands. From June through August, around half of the precipitation falls.
What is Alberta's major cities?
The following is the list of majors cities in Alberta
Calgary
Edmonton
Lethbridge
Red Deer
St. Albert
Grande Prairie
Flag of Alberta
On June 1st, 1968, Alberta adopted its flag. It has a blue background and the Alberta provincial shield on it. The flag has a length to height ratio of two.
Is Alberta a Canadian state or a city?
One of Canada's thirteen provinces and territories is Alberta. It is one of the three prairie provinces and a part of Western Canada.
Alberta is it in Toronto?
Alberta is about 2913 KM away from Toronto, therefore if you travel at a constant speed of 50 KM per hour, it will take you 74 hours and 39 minutes to get there. Your Alberta travel time may vary based on the vehicle you take, the pace of the bus or rail, or both.
ALSO READ:
What is the minimum wage in Alberta?
The current minimum wage in Alberta is $15, and no future increases are anticipated. With effect from June 1, 2022, British Columbia's minimum wage is presently $15.65. On October 1, the minimum wage in Manitoba raised to $12.35.
Which place is preferable, Ontario or Alberta?
The cheaper cost of living in Alberta is the primary benefit of moving from Ontario. Living in Alberta is less expensive than living in Ontario in almost every way.
Do you think the information in this article is helpful? Please post any feedback you might have in the comments section. Remember to bookmark our website as well so you can receive notifications when new posts are made.