Toronto in Canada! A significant Canadian city located on the northwest side of Lake Ontario is Toronto, which serves as the province of Ontario's capital. The iconic, free-standing CN Tower dwarfs the city's core of tall buildings, which are part of a vibrant metropolis.
Toronto offers a lot of green places, from the tidy oval of Queen's Park to the 400-acre High Park with its trails, sports venues, and zoo.
Torontonians live an active, exciting life. A city that people from all over the world come to call home is Toronto, where almost 50% of the population was born overseas. But why should tourists travel to Toronto? What does Toronto's cost of living look like in comparison to other cities? What is the average salary in Toronto 2022?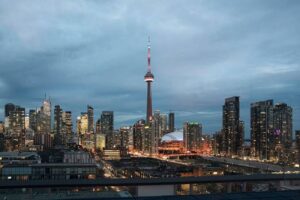 What is Canada's Toronto most known for?
The CN Tower dominates the city's waterfront skyline, and Toronto is a prominent Canadian metropolis with tall buildings, busy streets, and more. Toronto is famous for its multiethnic and multicultural population, world-class professional sports teams, and elite colleges.
What will Toronto's population be in 2022?
Toronto's current metro area population in 2022 is 6,313,000, a 0.93% growth from 2021. Toronto's metro area population in 2021 was 6,255,000, a 0.94% rise from 2020. Toronto's metro area population in 2020 was 6,197,000, a 0.94% rise from 2019.
Toronto's cost of living
It can be expensive to live in Toronto, particularly in the downtown area. The cost of rent is among the highest in Canada, and other regular monthly costs like phone plans, groceries, and transportation are also pricey.
Brief summary of Toronto, Canada's cost of living: Without rent, the projected monthly expenses for a family of four are 3,501 ($4,843C$). Without rent, the projected monthly expenses for a single individual are 959$ (1,326C$). Compared to New York, Toronto is 30.19% less expensive (without rent).
Why should tourists travel to Toronto?
For people who enjoy the outdoors and being in nature, there are parks and Toronto Islands; for sports fans, there is the Rogers Centre, Scotiabank Arena (formerly known as the Air Canada Centre), and other venues. Beaches, Ripley's Aquarium of Canada, and a variety of museums are available to families.
What is the average salary in Toronto 2022?
Toronto's average pay is $52,268, which is 10.1% higher than the national average of $47,487.
Toronto's economic sectors.
The business services, finance, aerospace, telecommunications, media, transportation, arts, cinema, television, production, publishing, media research, education, software production, engineering, sports industries, and tourism are just a few of Toronto's top economic sectors.
Toronto is also Canada's economic hub and is increasingly referred to as a "alpha world city" by the Globalization and World Cities study group.
READ ALSO:
Quick Facts about Toronto, Canada
Country – Canada
Province – Ontario
Location – South-east of Canada
Incorporated – March 6, 1834
Area of Toronto – 630.20 km2 (243.32 sq mi)
Toronto Population –  6,313,000
Toronto Time zone – UTC−5 (EST) | Summer (DST) UTC−4 (EDT)
Postal code span – M
Area codes – 416, 647, 437
Toronto Waterways  – Black Creek, Burke Brook, Don River, Etobicoke Creek, German Mills Creek, Humber River, Keating Channel, Mimico Creek, Rouge River, Taylor-Massey Creek
Toronto Rapid transit – Toronto subway
Toronto Major airports  – Toronto Pearson International Airport, Billy Bishop Toronto City Airport
Toronto Highways – 2A, 27, 400, 401, 404, 409, 427, Black Creek Drive, Queen Elizabeth Way, Don Valley Parkway, Allen Road, Gardiner Expressway,
Commuter Rail – GO Transit
Toronto Climate – humid continental climate
Official Website – toronto.ca
Have you found the information in this article useful? If you have any queries, please leave them in the comments section, and don't forget to bookmark us to receive notifications of new posts.