Kentucky, United States! Do you wish to know what Kentucky is renowned for? Are you trying to find Kentucky's major cities? Do you want to learn about renowned people from Kentucky? Search no more; you have come to the right site.
Kentucky is a state in the southeast that borders the Ohio River to the north and the Appalachian Mountains to the east. Its capital is Frankfort. The Kentucky Derby, a renowned horse race hosted at Churchill Downs on the first Saturday in May, is staged in Louisville, the largest city in the state.
In this post, you will learn about the cities and towns in Kentucky, the best places to live in Kentucky, the reasons people move there, and much more.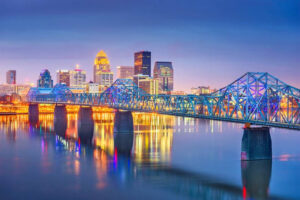 Which U.S. state is Kentucky?
The Bluegrass State, which is legally recognised as the Commonwealth of Kentucky, is situated in the south. Kentucky is specifically located in the United States' Third Region and Sixth Division.
Kentucky shares borders with Tennessee to the south and Virginia to the southeast. Natural borders between Illinois, Indiana, and Ohio are created by the Ohio River. The state border with West Virginia is defined by the Big Sandy and Tug Fork Rivers, while the Mississippi River establishes the border with Missouri in the southwest.
What is the USA's Kentucky known for?
Along with horse racing, bourbon, moonshine, coal, the historic state park "My Old Kentucky Home," the manufacture of automobiles, tobacco, bluegrass music, college basketball, Louisville Slugger baseball bats, Kentucky Fried Chicken, and the Kentucky colonel, Kentucky is also well-known for its culture.
Do you think it's a good idea to live in Kentucky?
Kentucky is a fantastic place to call home if you're seeking for affordable housing prices, a cheap cost of living, delicious bourbon, excellent national and state parks, southern friendliness, and, did we mention superb bourbon?
Why is Kentucky the best state, exactly?
While the Bluegrass State is known for its bourbon, country music, and horse racing, quirky museums and breath-taking natural wonders may surprise tourists. Contrary to popular belief, Kentucky is much more than roller derbies, whiskey, and fried chicken.
Who are Kentucky celebrities?
Famous people born as well as raised in Bluegrass State (or both) include explorers and pioneers (Daniel Boone), the world's most influential athletes (Muhammad Ali), movie stars (George Clooney) and musicians (Loretta Lynn). ), even some of America's greatest politicians (Abraham Lincoln)
Is it expensive to live in Kentucky?
The average cost of living in Kentucky is $36,574 per person, according to the latest Bureau of Economic Analysis personal consumption expenditure data.
Why do people move to Kentucky?
Kentucky has a low cost of living
Kentucky's housing, transportation, utilities, and medical costs are cheaper than neighboring states. The median housing cost is $145,230 and the national median is $231,200.
What's the weather like in Kentucky?
Due to its central location in the United States, Kentucky's weather is typically mild and temperate. The state has four seasons, with warm summers and moderately cold winters.
How do people make money in Kentucky
Kentucky's economy is based on manufacturing, trading, mining, agriculture, tourism, and other services, and varies by region. Bluegrass is a thriving area with many manufacturers and many facilities
Where is the best place to live in Kentucky?
Here is our list of  best places to live in Kentucky.
Anchorage.
Indian Hills.
Cherokee Gardens.
Hurstbourne Acres.
Fort Thomas.
Cherokee Seneca.
Union.
Highlands Douglass.
Kentucky state map
The full map above shows the state borders of Kentucky, USA, the location of the state capital Frankfurt, major cities and populated areas, rivers and lakes, highways, major roads, railroads, and airports.
READ ALSO:
Kentucky Cities and Towns
The map above shows the locations of the following cities in Kentucky:
Major cities include Louisville, Lexington, Bowling Green, Covington, Hopkinsville, Paducah, and Frankfort (state capital).
Other cities in Kentucky
Ashland

Bardstown

Berea

Campbellsville

Corbin

Covington

Cynthiana

Danville

Elizabethtown

Florence

Fulton

Glasgow

Harlan

Harrodsburg

Hazard

Henderson

Hopkinsville

Independence

Jackson

Jenkins

La Grange

Lebanon

Leitchfield

London

Madisonville

Marion

Mayfield

Maysville

Middlesboro

Morehead

Mount Sterling

Mount Vernon

Owensboro

Paintsville

Paris

Pikeville

Pleasure Ridge Park

Princeton

Radcliff

Richmond

Russellville

Scottsville

Somerset.
Flag of Kentucky united state
The flag of Kentucky, United States, adopted on March 26, 1918.

The flag consists of the Seal of the Commonwealth in a navy blue field, surrounded by the words "Commonwealth of Kentucky" above and branches of yellow, state flowers, below.
The seal depicts a pioneer and a statesman embracing each other. Popular belief holds that the man in the buckskin suit on the left is Daniel Boone, who was primarily responsible for the discovery of Kentucky, and the man in the suit on the right is Henry Clay, the famous Kentucky man. most famous. However, the official explanation is that the men represent all frontiersmen and statesmen, not specific people.
Kentucky State Facts
State Name – Kentucky
Country – United States
Continent – North America
Capital – Frankfort
Abbreviation – KY, US-KY
Largest City – Louisville
Area – 40,409 sq mi (104,659 km2)
Population (2020 Census) – 4,509,342 [Rank – 26th]
Joined The Union – June 1, 1792 (15th)
Nickname – Bluegrass State
Highest Point – Black Mountain
Lowest Point – Mississippi River at Kentucky Bend
Timezone – Eastern: UTC −5/−4, Central: UTC −6/−5
Official Website – https://kentucky.gov/
Has this article been helpful to you? Do you need more info, please do well to bookmark us to get notified for Latest updates.