Nova scotia in Canada! One of Canada's four Atlantic provinces, Nova Scotia is home to around a million people. On Canada's east coast, Nova Scotia is made up of both the mainland and more than 3,800 coastal islands. The major city and political center of Nova Scotia is Halifax, which has a population of over 400,000. Additionally, it serves as a key entrance to the Atlantic Ocean and one of Canada's largest seaports.
Nova Scotia is full of picturesque landscapes, a fascinating local culture, and a rich history from Yarmouth to Sydney. There are several attractions and enjoyable activities in Nova Scotia, and there is something for everyone. Enjoy the tranquility and beauty of the Annapolis Royal Historic Gardens, or visit Cape Breton Highlands National Park for its breathtaking scenery and diverse fauna.
Do you want to know how Nova Scotia's economy is doing? Are you looking for a list of the major cities in Nova Scotia? Would you like to discover Nova Scotia's minimum wage? Or perhaps you'd want to know how much the average Nova Scotian makes? To get the answer to your query, read this article.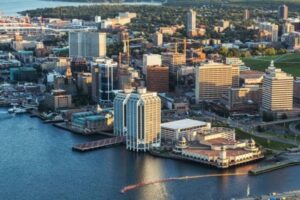 The Nova Scotian economy
In Nova Scotia, coal mining has historically played a vital role in daily life. After the 1950s, the industry started to collapse, but in the 1990s it started to recover. Another significant contributor to the local economy is agriculture, notably farms that raise chicken and milk.
It also makes sense that fishing is a significant industry in Nova Scotia given its proximity to the ocean. It is one of the most fruitful fisheries in the Atlantic Ocean, bringing in catches of haddock, cod, scallops, and lobsters. The economies of Nova Scotia are also heavily dependent on forestry and oil.
Living Standards in Nova Scotia
When compared to other Maritime Provinces, Nova Scotia has one of the highest average incomes. In Nova Scotia, a family makes an average income of $67,910. The average household income in the Halifax region is $80,490, which is much higher than the national average.
Living expenses in Nova Scotia are considerably lower than the national average. Nova Scotians can afford a very high standard of living thanks to a comfortable average pay in the province. About 15.8% of provincial income taxes are paid by individuals.
Is Nova Scotia a separate country or a province of Canada?
Nova Scotia, a Canadian province on North America's eastern seaboard, was one of the four founding provinces (together with New Brunswick, Ontario, and Quebec) that formed the Dominion of Canada in 1867.
Major Nova Scotian cities
The list of Nova Scotia's main cities is as follows:
Halifax, Canada
Dartmouth, Canada
Sydney, Canada
Glace Bay, Canada
Truro, Canada
New Glasgow, Canada
Sydney Mines, Canada
Kentville, Canada
New Waterford, Canada
Amherst, Canada
Bridgewater, Canada
Yarmouth, Canada
North Sydney, Canada
Greenwood, Canada
Antigonish, Canada
What is Nova Scotia known for in Canada?
It is one of only three Canadian maritime provinces on North America's North Atlantic Coast. Nova Scotia is well-known for its high tides, lobster, fish, blueberries, and apples. Sable Island is also recognized for having an extremely high rate of shipwrecks.
Is it a good place to reside in Nova Scotia, Canada?
Over 7,400 kilometers of coastline. The natural beauty of the undulating sea, lush green trees, lakes, and farmland surrounds us. All of this, combined with it expanding cities and inexpensive cost of living, contributes to Nova Scotia being one of the most delightful locations to live in Canada.
What is Nova Scotia's minimum wage?
The minimum wage in Nova Scotia will rise from $13.35 per hour to $13.60 per hour as of October 1, 2022. A work week of 48 hours or fewer is covered by the minimum wage rate. Can I wait until the following pay period to begin paying the new minimum wage because October 1 falls in the middle of this one?
Where do people reside in Nova Scotia the most?
The largest urban area in Nova Scotia is the population center of Halifax. 37 population centers are recognized by Statistics Canada as being present in the province.
Population in Nova Scotia in 2022?
A total of 1,002,586 people called Nova Scotia home as of January 1st, 2022. The population of Nova Scotia is at its greatest point ever. The population of Nova Scotia has grown by 66,315 since April 1, 2015.
Education in Nova Scotia
The provincial government is required to provide free education up to the conclusion of secondary school for all Canadians under the age of 20. From kindergarten through grade 12, the Nova Scotian government offers free instruction in both English and French. All instructors in Nova Scotia's public education system hold university degrees, have completed advanced teacher training, and adhere to a provincially mandated curriculum, much like in every other province and territory in Canada.
Universities, technical institutions, and apprenticeship programs make up Nova Scotia's extensive post-secondary education system. The average undergraduate tuition cost in Nova Scotia is almost $5,500, making it the most expensive province overall.
Through its 11 universities and 13 professional schools, Nova Scotia's post-secondary educational institutions provide a comprehensive selection of programs. Among them are the largest, Dalhousie University, as well as the University of King's College, Saint Mary's University, Mount Saint Vincent University, and the Nova Scotia College of Art and Design, all of which are located in Halifax; the Francophone University of Sainte-Anne and Cape Breton University, which are both located in Sydney.
How much does the typical Nova Scotian earn?
In Canada, the typical halifax ns pay is $30,323 per year, or $15.55 per hour. Most experienced workers earn up to $46,964 per year, while entry-level roles start at $28,119.
RELATED ARTICLES:
What dialect is used in Nova Scotia?
Although English and French are the official languages of Canada, services are frequently provided in both languages, particularly in parts of Cape Breton. However, English is the primary language used in Nova Scotia.
How far is it by automobile from Nova Scotia to Toronto?
 The shortest route from Toronto to Nova Scotia is 1,690 kilometers (1,050 miles) long and takes a minimum of 17 hours and 30 minutes to accomplish.
Do you find this article's content to be helpful? Please share with your friends and leave any thoughts in the section below.