Quebec in Canada! One of Canada's thirteen provinces and territories is Quebec. By both area and population, it is the second-largest province. A large portion of the population resides in metropolitan regions along the St. Lawrence River, between the province's capital, Quebec City, and its most populous city, Montreal.
The majority-French-speaking province of Québec in Canada is where Québec City is located on the Saint Lawrence River. Its fortified colonial heart, Vieux-Québec and Place Royale, with its stone buildings and winding lanes, dates to 1608. The majestic Citadelle of Québec and the soaring Château Frontenac Hotel are located in this neighborhood. Bistros and shops surround the cobblestone streets of the Petit Champlain neighborhood.
Would you like to know if Quebec is still a part of Canada? Do you want to know the average cost of living in Quebec? Do you want to discover what makes Quebec different from the rest of Canada? Are you looking for career opportunities in Quebec? Then read on.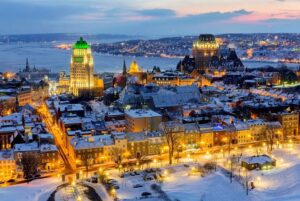 Career opportunities in Quebec
Indeed, finding work in Quebec for foreigners has never been easier. If you want to work in Canada, choosing Quebec may be an option for you. Because this province has a high demand for professionals and laborers.
The province has thriving industries in the fields of aerospace engineering and oil and gas production, which are two extremes of the province's economic potential.
Does Quebec still belong to Canada?
Quebecers currently have some degree of democratic control over the Quebec state thanks to parliamentarism. However, under the existing structure of the Canadian federation, Quebec lacks some of the constitutional authority that would enable it to function as a truly national government.
How many cities are there in Quebec?
Quebec's 1,218 municipalities include 87 supralocal regional county municipalities and 1,131 local municipalities (88.2% of its census subdivisions).
Quebec's major cities
The following is the list of major cities in Quebec:
Montreal, Canada
Quebec City, Canada
Laval, Canada
Gatineau, Canada
Longueuil, Canada
Saguenay, Canada
Levis, Canada
Sherbrooke, Canada
Trois-Rivieres, Canada
Saint-Jean-sur-Richelieu, Canada
Chicoutimi, Canada
Drummondville, Canada
Saint-jerome, Canada
Granby, Canada
Saint-Hyacinthe, Canada
What Is Quebec's Average Cost Of Living?
One of the most affordable provinces in Canada is regarded to be Quebec. In Quebec City, a single person's monthly living expenses come to CAD 1,058. (INR 63,430). But apartment rent is not included in this expense.
Therefore, Quebec has a lower cost of living than other major cities throughout the world. However, the anticipated monthly cost, which includes rent, may exceed CAD 1,940 (INR 1,16,300).
The reasons why Quebec is unique from the rest of Canada.
Quebec is unique among all of North America's regions since it is the only one that speaks French. French-Canadians, who are descended from French settlers from the 17th century and have withstood decades of pressure to assimilate into Anglo society, make up the majority of the population.
What Are Quebec's High-Demand Job Sectors?
Although Quebec is one of the best provinces in Canada for job searchers, it can be challenging to locate possibilities without the proper approaches. When compared to other Canadian provinces, Quebec has a fairly competitive job market. In Quebec, the majority of employment opportunities are concentrated in:
Care workers
Trades
Information technology.
Construction
Manufacturing
Healthcare
Is Quebec a wonderful place to call home?
With one of the lowest crime rates in all of North America, Québec City and its surrounding metropolitan region are renowned for their safety. Additionally, Québec City was named the safest Canadian city in which to raise a family. Québec City, a fusion of culture and nature, history and modernity, reflects its inhabitants.
The current population of Quebec of 2022?
The population of Quebec's metro region is currently 838,000, up 0.72% from 2021. Quebec's metro region had 832,000 residents in 2021, up 0.73% from the previous year. In 2020, Quebec's metro region had an estimated 826,000 residents, up 0.61% over the previous year.
RELATED ARTICLES:
Quebec's top universities
Check out the top universities in Quebec below:
Laval University
One of the first universities founded in French, the University of Laval is a Quebec City institution that dates back to 1852. It is a 414th-ranked global institution according to QS rankings.
University of Quebec
This renowned Canadian institution, which is ranked between 591 and 600 by QS World Universities, accepts more than 4,000 international students each year.
What are your thoughts on the essential information about Quebec in Canada? Was it useful to you? Use the share button below to inform your friends about this post and to leave your comments below.