Importance of Education finding a Job – Usefulness of Education when Searching for jobs.
If you really want to get a job, you must with the terms that an important aspect of job seeking is your educational qualification. For example, if Mr A and Mr B apply for a job position in an organization and Mr A has a Bachelor's degree while Mr B has no educational qualification at all. The employer will see Mr A as the right person for the job even if Mr B has all the work experience.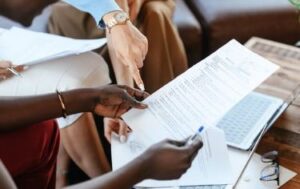 The reason why some people are still unemployed is as a result of lack of Education. You can tell whether or not a job seeker is educated by how they come up with thoughtful answers to interview questions, and their ability to think and reason critically and analytically.
Apart from work experience, education is of great benefit to job seekers and has been of immersed help in the sense that it advances one's career and increases the chances of getting employed
What is Educational Qualification?
Educational qualification is proof in the form of a certificate that confirms one's educational experiences, skills, strength, and accomplishments.
Types of Educational Qualifications required by jobs
The qualification required by an organization may differ from another. Here are the types of educational qualification:
1. Higher National Certificate and Diploma (HNC/HND)
2. Bachelor's degree (BA, Bsc)
3. Masters (MA, Msc, MBA)
4. Doctorate (PhD)
Why Education is important in job finding
The following are the reasons why you need an educational qualification while applying for a job. They are:
1. It increases your confidence: With your educational qualification you know you are fit to stand anywhere
2. It increases your viability
3. It puts you ahead of others
4. It makes you succeed as it shows your skills and knowledge in a particular area or field
5. It gives you a wider range of better jobs you can choose from
6. Educational qualification enhances your soft skills
7. It makes you more productive
8. It is proof to your employee that you can be trusted
Is education the only means to getting a job?
No, educational qualification is not the only means of getting a job. With your work experience, you also have a higher chance of getting employed. There are some jobs that require little or no experience at all while there are other jobs that require no educational qualification.
Finally: Education Plays an important role in our daily search for jobs. Gather the necessary skills needed to get a good job.