Top shopping malls in Nigeria 2023! Are you looking for the best places to shop in Nigeria? Do you want to know which shopping malls offer the most variety, quality, and convenience? If yes, then you are in the right place. In this article, we will explore the top 10 best shopping malls in Nigeria in 2023.
Shopping malls are not just places to buy things. They are also places to have fun, relax, socialize, and enjoy various entertainment options. Whether you are looking for fashion, electronics, groceries, or souvenirs, you can find them all in these amazing shopping malls. You can also enjoy delicious food, watch movies, play games, and even stay in hotels within these malls.
The shopping experience in Nigeria has transformed into a multifaceted journey, with numerous malls competing for your attention. Are you wondering where to find the best luxury boutiques, international brands, and local treasures? Which malls are equipped with the latest entertainment facilities to cater to your family's needs? To help you plan your next shopping trip, we have compiled a list of the top 10 best shopping malls in Nigeria in 2023.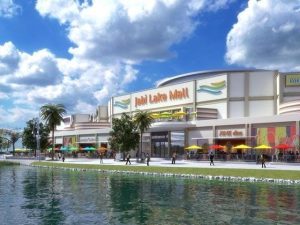 What is the biggest shopping mall in Nigeria?
The biggest shopping mall in Nigeria is Tinapa Shopping Centre in Calabar, Cross River. It has a gross leasable area of 80,000 m (861,113 ft) and was opened in 2007. It is part of the Tinapa Free Zone and Resort, which offers a variety of products and services, including a six-screen cinema
What are the best shopping malls in Nigeria for families?
Some of the best shopping malls in Nigeria for families are:
1. Ikeja City Mall in Lagos:
This mall is very popular for young teens and good for a family time outs. It has a variety of shops, restaurants, cinemas, and entertainment options.
2. Jabi Lake Mall in Abuja:
This mall is located near a beautiful lake and offers a great place to shop, dine, and relax with family, friends, or partners. It has a wide range of local and international brands, as well as a cinema, a supermarket, and a children's play area.
3. Dunes in Abuja:
This mall is a luxury shopping destination that houses a well-stocked pharmacy, a vibrant supermarket, a bookstore, a bakery, a salon, and a spa. It also has a restaurant that serves delicious continental and Nigerian dishes, as well as a rooftop lounge that offers stunning views of the city.
4. Palms Shopping Mall in Ilorin:
This mall is the best place to visit in Kwara state, with everything available at your disposal. It has a supermarket, gift store, stationery store, restaurants, and many other shops. It is also a good place to enjoy movies and games with your family
How to get to Tinapa Shopping Mall in Calabar?
To reach Tinapa Shopping Mall in Calabar, your transportation options depend on your starting point:
1. From Mbak Ikot Abasi:
Take a bus or taxi to Uyo, the capital of Akwa Ibom State. From there, you can continue your journey to Calabar, the capital of Cross River State, by bus or taxi. The distance between Uyo and Calabar is approximately 140 km, and it takes around 2 hours by road. Alternatively, you can opt for a 30-minute flight from Uyo to Calabar.
2. From Calabar City:
If you're already in Calabar, you can reach Tinapa Resort by taxi or bus. The mall is approximately 10 km away from the city center. A more direct access road of 2.5 km may be under construction to link it with the city, but please verify its status. The driving time from Calabar to Tinapa Resort is roughly 15 minutes.
3. From Other States or Countries:
Fly into Margaret Ekpo International Airport in Calabar, which serves both domestic and international flights. The airport has connections from cities like Lagos, Abuja, and Port Harcourt. From the airport, you can reach Tinapa Resort in about 24 minutes by taxi or bus
Which shopping mall in Nigeria has the largest cinema?
The shopping mall in Nigeria that has the largest cinema is Silverbird Entertainment Centre in Abuja. It has 12 screens and is arguably the largest cinema complex in West Africa. It is owned by Silverbird Group, a media and real estate company that also operates Silverbird Galleria in Lagos.
Some other shopping malls in Nigeria that have large cinemas are:
Ado Bayero Mall in Kano: It has 8 screens and is operated by Filmhouse Cinemas
Novare Lekki Mall in Lekki: It has 8 screens and is operated by Genesis Cinemas
Polo Park Mall in Enugu: It has 7 screens and is operated by Genesis Cinemas
What are the latest fashion trends in The Palms Shopping Mall in Lekki?
At The Palms Shopping Mall in Lekki, you can explore the latest fashion trends and an array of offerings, including:
Montblanc Boutique: Montblanc, in partnership with Polo Luxury, has opened its first standalone boutique in Nigeria. This boutique offers an immersive shopping experience with sections dedicated to watches, writing instruments, leather goods, accessories, and Montblanc's technology devices.
Diverse Brand Selection: The mall is home to a wide variety of both local and international brands, from Game and Shoprite to fashion giants like Nike, Adidas, Mango, Swatch, Levi's, and more. You can find everything from groceries and cosmetics to fashion, electronics, and furniture.
Novare Lekki: Nearby, Novare Lekki is another shopping destination with a range of products and services, including Spar, Genesis Cinemas, Miniso, HealthPlus, Samsung, Skechers, and more
What are the best restaurants in Jabi Lake Mall in Abuja?
Jabi Lake Mall in Abuja offers a variety of restaurants with diverse cuisines and services. Here are some of the standout dining options:
Cilantro Abuja: Delight in Indian and Chinese cuisine in a stunning ambiance surrounded by nature. Find it at Plot 3703 / 3704 Ibrahim Babangida Way, Sarius Palmetum.
Argungu: Savor African and seafood dishes with a scenic view by the Jabi Water Front, located at Jabi Lake Mall.
Serendib Restaurant & Bar: Enjoy Indian, Asian, and Sri Lankan cuisine with a 3rd-floor view of the lake. Find it at No.29, Umaru Dikko Street, Jabi, inside Lake Crescent Hotel.
BluCabana Restaurant & Cafe: This establishment offers a Mediterranean grill, a bar, and a swimming pool. Discover it at 1322 Shehu Yar_adua Way, Mabushi.
Lomo Coffee And Restaurant: Explore a diverse menu featuring Italian, Chinese, Indian, cafe, and wine bar options. It's located at No 107 Ebitu Ukiwe, Jabi.
Jabi Lake Mall's restaurants cater to various culinary preferences, providing a delightful dining experience for visitors.
How to find discounts and deals in Novare Shopping Mall in Lekki?
Check Novare Lekki's official website for the latest sales and events. Sign up for their newsletter for updates.
Follow Novare Lekki on Facebook for posts about discounts, new arrivals, and more.
Explore the variety of shops and services for potential bargains.
Compare prices and quality using online tools like PriceCheck and Jiji.
Enjoy entertainment options at Novare Lekki, including discounted movie tickets at Genesis Cinemas on weekdays. Relax at the food court or outdoor seating by the lake
How to shop online from Ikeja City Mall in Ikeja?
To shop online from Ikeja City Mall in Ikeja, you can follow these general steps:
Visit the official website of Ikeja City Mall or the websites of the specific stores you wish to shop from. Many stores have their own online shopping platforms.
Browse through the available products and select the items you want to purchase.
Add the selected items to your online shopping cart.
Review your cart to ensure you have the correct items, quantities, and sizes.
Proceed to the checkout and provide your shipping information and payment details.
Choose a preferred delivery method, whether it's home delivery or in-store pickup, if available.
Confirm your order and make the payment.
You will receive an order confirmation and, if applicable, a tracking number for your shipment.
Wait for your products to be delivered to your specified address or go to the mall for in-store pickup, depending on the chosen delivery option.
SEE ALSO:
What are the best souvenirs to buy from Maryland Mall in Lagos?
Maryland Mall in Lagos offers a variety of souvenirs that can be great mementos of your visit to Lagos. Some popular options include:
Traditional Nigerian Art and Crafts: You can find beautifully crafted traditional Nigerian art, masks, sculptures, and other handcrafted items that reflect the local culture.
Fashion and Clothing: Nigerian fashion is known for its vibrant and unique styles. Consider buying traditional Nigerian clothing or modern fashion items from local designers.
Jewelry: You can find a wide range of jewelry, including beadwork and traditional Nigerian jewelry, which can be both fashionable and culturally significant.
Local Food and Spices: Purchase Nigerian spices, snacks, or traditional foods as souvenirs. These items can offer a taste of Nigerian cuisine.
Local Handicrafts: Explore the selection of locally made handicrafts, such as woven baskets, pottery, and leather goods.
Fabrics and Textiles: Nigerian fabrics like Ankara and Aso-oke are popular choices for souvenirs. You can use them for clothing or home decor.
Local Music and Artifacts: Look for Nigerian music albums or traditional musical instruments, such as drums or talking drums.
Accessories and Beadwork: Beaded jewelry, bags, and accessories are not only fashionable but also have cultural significance.
Please share the article with others and remember to bookmark our site for the most recent updates.