You might be planning to visit Sri Lanka in 2023. Or you even love shopping and exploring different kinds of products and services? then you are in luck. Sri Lanka is a beautiful island nation that offers a variety of shopping experiences for its visitors. Even if. If you are looking for local brands, international labels, handicrafts, antiques, or spices, you will find them all in the top shopping malls in Sri Lanka.
You will learn about some of Sri Lanka's top retail centers that you shouldn't miss. These shopping centers serve as both shopping and entertainment, dining, and cultural hubs. The variety and high caliber of the goods you may buy in these malls will astound you.
As these malls reflect Sri Lanka's rich legacy, you will also learn about their history and architecture. So, get ready to discover the top shopping malls in Sri Lanka that will make your trip.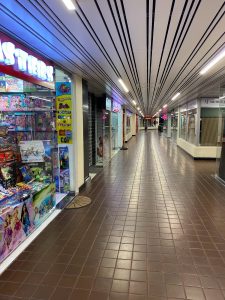 Top shopping malls in Sri Lanka 2023
Here are some of the best shopping malls in Sri Lanka that you should not miss:
Colombo City Centre Mall: A modern, luxury mall with shopping, dining, and entertainment.
Marino Mall: Features a 9D cinema, gaming, spa, and ocean-view rooftop restaurant.
Crescat Boulevard: Offers local, and international brands, and global cuisine in its food court.
One Galle Face Mall: Part of a mixed-use complex with over 200 stores and global cuisine.
Majestic City: Popular mall for fashion, electronics, cinema, and food.
Liberty Plaza: A nostalgic, affordable option for clothes, accessories, and books.
Kandy City Centre: Located in the heart of Kandy with shops, eateries, and a cultural center.
Enjoy shopping in these malls during your Sri Lanka visit.
Best shopping malls in Colombo
Here are some of the top-rated malls that you can visit:
One Galle Face Mall
Crescat Boulevard Mall
Colombo City Centre Mall
Dutch Hospital Shopping Precinct
Arcade Independence Square
Marino Mall
Majestic City Mall
Liberty Plaza
ODEL Shopping Mall
Pelawatte City Mall
Kandy City Centre
K-Zone Ja-Ela
Liberty Arcade
Crescat Shopping Mall
Liberty Arcade
Cotton Collection – Flagship Store
What to buy in Sri Lanka malls
Here are some of the most popular items that you can buy in Sri Lanka malls:
Gems and Jewelry: Discover high-quality gemstones and jewelry, such as sapphires and rubies.
Sarees and Sarongs: Traditional Sri Lankan attire with various colors and fabrics.
Ceylon Tea: Explore a variety of aromatic teas, including black, green, and herbal types.
Wooden Masks: Colorful carvings representing local folklore, offering protection and decoration.
Spices: Enjoy the rich flavors of Sri Lankan cuisine with spices like cinnamon, cardamom, and cloves.
These are some of the best things to buy in Sri Lanka malls that will make your trip more memorable and fun.
Sri Lanka mall opening hours and directions
For shopping malls in Sri Lanka, here are opening hours and directions:
Colombo City Center Mall: Open 10:00 AM to 8:00 PM daily at 1A, 02 Center Rd, Colombo, Western Province, 00100. Google Maps for directions.
One Galle Face Mall: Open varying hours (9:00 AM to 11:00 PM on Mon, Wed, Fri, 11:00 AM to 11:00 PM on Tue, Sat, 11:00 AM to 10:00 PM on Sun, closed on Thurs) at 1A, 02 Center Rd, Colombo, Western Province, 00100. Google Maps for directions.
Marino Mall: Open 10:00 AM to 10:00 PM daily at 590 Galle Road Colombo 03. Google Maps for directions.
Sri Lanka mall events and promotions 2023
There are many events and promotions happening in Sri Lanka's malls in 2023. Here are some of the highlights:
1. Sri Lanka Retail Forum 2023:
This premier retail industry knowledge event, scheduled for October 19, 2023, at the Shangri-La Hotel Colombo, offers insights from both national and international experts on emerging retail trends and strategies.
2. Colombo International Yarn & Fabric Show 2024:
For those in the textile and apparel industry, this trade show runs from February 29 to March 2, 2024, at the Bandaranaike Memorial International Conference Hall (BMICH). It's your source for the latest in yarn and fabric products and technologies.
3. One Galle Face Mall:
A luxury shopping destination with diverse offerings. Until September 28, 2023, you can indulge in late-night shopping and receive a PVR LUX movie ticket when you spend over Rs.15,000. There are also exclusive offers and discounts from various retailers at the mall.
4. Fashion Bug:
A fashion store providing stylish and affordable clothing for all ages. Until the end of September 2023, you can enjoy a 15% discount on selected brands and items. Additional promotions and deals can be found on their website.
5. Valentine's Day Specials:
Explore romantic gifts and treats for your loved one with various retailers in Sri Lanka. You'll discover discounts on items such as flowers, chocolates, jewelry, and perfumes, along with options for booking romantic getaways or dinner dates at some of Sri Lanka's finest hotels and restaurants
Sri Lanka mall culture and history
Sri Lanka is a country with a rich and diverse culture and history, which is reflected in its malls as well. Malls are not only places for shopping, but also for recreation, entertainment, and socializing. Here are some aspects of Sri Lanka's mall culture and history that you might find interesting
Liberty Plaza, Sri Lanka's first modern mall, designed by architect Geoffrey Bawa in 1982, boasts a curved facade and central atrium. It offers shopping, a cinema, food courts, and various services.
One Galle Face Mall, the largest in Sri Lanka since its 2019 opening, is part of a mixed-use development in Colombo. With over 400 retail outlets, including international and local brands, it features a cinema, supermarket, food hall, and rooftop garden.
Local traditions influence mall events, with celebrations like Vesak, Sinhala, Tamil New Year, Christmas, and Valentine's Day. Festive decorations, performances, games, and promotions highlight Sri Lanka's diversity.
Malls offer diverse entertainment options: cinemas showcasing Hollywood, Bollywood, and local films, music lounges, karaoke bars, gaming zones, sports centers, gyms, and art galleries displaying local and international artists' works.
READ ALSO:
Sri Lanka Shopping Guide
Sri Lanka, known for its captivating landscapes and vibrant culture, offers a diverse shopping experience for travelers in 2023. Here's a guide to some of the best shopping destinations and what to look for during your visit:
1. Crescat Boulevard, Colombo:
For local brands and products, this is a must-visit.
Find clothing, accessories, electronics, books, and more.
Savor delicious cuisine at the food court or nearby restaurants.
2. Franciscan Sister's Jam Room, Nuwara Eliya:
Explore a sweet and tasty paradise with delicious jams, pickles, and chutneys in various flavors.
Sample before you buy these delectable products.
3. Pettah Floating Market, Colombo:
Experience the unique Pettah Floating Market on Beira Lake.
Discover bargains on clothing, shoes, bags, jewelry, and more while enjoying scenic views.
4. Dutch Gallery, Galle Fort:
Explore a treasure trove of antiques and collectibles, including furniture, paintings, ceramics, coins, stamps, and more.
Immerse yourself in Sri Lanka's history and culture through these artifacts.
5. Galle Fort, Galle:
Visit a UNESCO World Heritage Site, offering an array of spices like cinnamon, cardamom, cloves, nutmeg, pepper, and more.
Buy tea, coffee, honey, and other products derived from these aromatic spices.
6. Mlesna Tea Centre, Colombo or Kandy:
Tea enthusiasts will love this paradise with a wide range of teas from various regions and estates in Sri Lanka.
Find tea accessories, including pots, cups, and strainers.
7. Olanda Furnitures, Galle Fort or Colombo 7 (Cinnamon Gardens):
Shop for high-quality furniture crafted from reclaimed wood.
Discover tables, chairs, cabinets, beds, sofas, and an assortment of accessories like cushions, rugs, lamps, and more.
8. Orchid House, Galle Fort or Unawatuna Beach Road:
Browse through a selection of beautiful handicrafts made by local artisans, including batik fabrics, wood carvings, masks, paintings, pottery, baskets, and more.
Purchase natural products such as essential oils, soaps, lotions, candles, and incense.
9. Barefoot, Colombo 3 (Kollupitiya) or Galle Fort:
For designer clothing and accessories made from handwoven fabrics, this store is a top choice.
Find dresses, shirts, skirts, pants, sarongs, scarves, bags, hats, as well as books, toys, stationery, jewelry, and more.
10. Rangala House Art Gallery, Kandy (near Peradeniya Botanical Gardens):
Explore an art gallery showcasing works by local and international artists, including paintings, sculptures, photographs, prints, and more.
Consider adding some of these remarkable artworks to your collection, or request custom-made pieces.
Your shopping journey will be spectacular if you use this post to learn about the best malls in Sri Lanka for 2023. Share this article with your friends and family. Enjoy your time in this stunning nation!